Mercy Works Inc. helping to deliver water in Timor Leste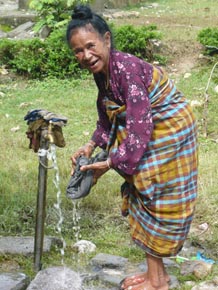 Access to safe water is essential for life; it is a basic human right. Yet this is not the reality for more than one-sixth of the world's population. A lack of access to safe drinking water has disastrous effects on the health of people, but it also impacts on their education and employment opportunities. The people of Fohorem in the remote and mountainous south-west of Timor Leste form part of this statistic.
With a population of 4,500, the district is in desperate need of a safe and permanent water system. A system installed over 15 years ago, which had provided water for some in the area, had been extensively damaged and was ineffective, largely because of the violence that followed the September 1999 independence referendum.
Thanks to the collaborative efforts of Mercy Works, Rotary Mosman (NSW) and Rotary Dili, working in partnership with the Fohorem Water Commission, the installation of a new water system is underway.
Planning began in 2007 and has involved extensive consultation with local people through the Fohorem Water Commission, an 18-member group of elected community representatives.
"Consultation with them from the beginning and involving them in the process has been paramount," says Sister Rosie Carroll, Executive Officer of Mercy Works Inc.
Rosie reports that two specialists from Rotary in Australia, Mr Charles Barnett and Howard Sullivan, have been working tirelessly on the project. While they and representatives from Mercy Works are guiding the project and sharing their expertise, it is the Commission who will implement the plan, employ local people and provide ongoing maintenance of the system.
Preliminary repairs to some water pipes from the former system have taken place, and during a recent trip to Fohorem, Charles and Howard facilitated the roll-out of a major stage of the project.
Upon completion, the system will draw on water from two springs in the mountains which will be transported through a series of pipes and tanks down to the villages.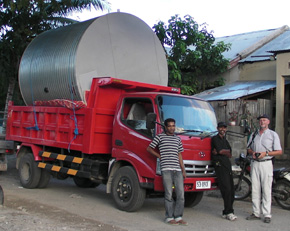 While the water is free, the Commission is being encouraged to charge a small fee for use of the system. The income generated will then be used for ongoing maintenance of the system.
Purchasing project materials "in country" has been a priority for the team because it boosts the Timor Leste economy. Tanks are coming from Baucau while pipes and other materials are coming from Dili. A truck has also been purchased (pictured right), and once the water system has been installed, it will be made available as a resource for the village on a hire basis.
Depending on weather conditions, the project is due for completion in October this year.
About Mercy Works Inc.
Mercy Works Inc. supports the local and overseas relief and development activities that are part of the vision and mission of the Institute of Sisters of Mercy of Australia.
The programmes engage in partnerships with communities to promote justice, self reliance and to support displaced people and communities who are denied access to basic resources such as education, health care and social welfare.
This gift of water to the people of Fohorem has been made possible through the generosity of two significant donors. Mercy Works Inc. acknowledges with deep gratitude their commitment to this project.
Would you like to partner with Mercy Works Inc. to support other community development initiatives in Fohorem? Find out more.