Archived News Item
Mercy Works Inc. 2008-2009 Annual Report
November 18, 2009
The Mercy Works Inc. Annual Report provides a snapshot of the agency's work in Papua New Guinea, Pakistan, Timor Leste, Peru and Australia during the last financial year.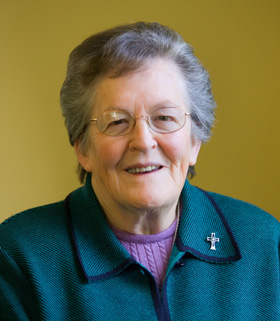 A Report from the Chair of the Board
Although she was the foundress of the Sisters of Mercy, Catherine McAuley was never required to prepare an annual report on the activities and development of the Institute. However, on one occasion, she was asked to describe the origins and growth of the early Mercy foundations, and it was here that she acknowledged that "there has been a most marked Providential Guidance" in all the business of their lives.
Such has been the experience of Mercy Works Inc. in the past year, when we have been challenged yet again to strengthen the structure of the organisation and to extend its support to an ever-increasing number of needy situations in our world. The clarity of our Direction Statement continues to determine our response, even as we have taken on responsibility for new and urgent development projects both in Australia and overseas.
This growth has been made possible through a significant increase in the membership of Mercy Works Inc. and the generosity of donors throughout the country. In particular, I thank the members of the Institute Plenary Council for their generous and practical support. A wider distribution of our magazine, The Bilum, together with our community education programme, continues to inform people of the purpose and activities of Mercy Works Inc. and engages their practical support in our endeavours. Details of our finances and projects for this past year are available in this annual report.
Whilst I gratefully acknowledge the commitment and expertise of the Board of Mercy Works Inc., I particularly wish to thank our Executive Officer, Sister Rosemary Carroll RSM, staff and volunteers for their valued service. The Board has delighted in the new staff appointments during the past year, and we have already noted many benefits from their professional and generous contributions.
It is only through such collaborative partnerships within and without Mercy Works Inc. that we are able to continue our efforts to foster the Millennium Development Goals to free people from the shackles of extreme poverty and disease.
Mercy Works Inc. reflected on the challenge of these goals at its Annual General Meeting two years ago, and it is quite salutary to review our progress in this regard, through the annual report at this time of an unfavourable economic climate.
Whilst we have made some small progress in many of our projects, there is much more to achieve. Through our wider Mercy network, nationally and internationally, we must strengthen global co-operation and solidarity with the poor.
I trust that the opportunity to share the stories of the development projects which are presented in this report will inspire many sisters, colleagues and Mercy friends to reach out with great generosity of heart and to engage more fully with the activities of Mercy Works Inc.
Mary Duffy RSM
Chair