Archived News Item
Mercy Works gets grant for refugee students
November 22, 2007
Mercy Works Inc., the relief and development arm of the Institute of Sisters of Mercy of Australia, has received a grant of $8,000 from the Commonwealth Bank to help fund a pilot project that will support secondary school students who have come to Australia as refugees and face the challenges of a new country, new language and new lives.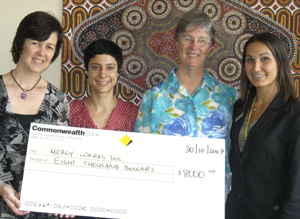 Known as "Classroom Connect", the pilot project originated from consultations conducted with refugee families currently involved with Mercy Refugee Service's innovative Community Links Project. This project recruits, trains and supports members of the community to provide support for newly arrived refugees.
"Through the consultation process we identified the need for additional academic support for refugee students," explains Ms Miriam Pellicano, Co-ordinator of the Community Links Project in Sydney.
"The initial concept was to provide additional homework support, but since our initial consultations, we have extended the depth of support to providing transitional support as well as classroom support.
"Through additional consultation with the Intensive English Centres, we established that the transition period from the Intensive English Centres to mainstream schooling is a particularly stressful time for students. They often feel isolated and anxious, and consequently, withdraw from classroom participation.
"The aim of Classroom Connect is to provide education support for year 10 to 12 students who have low language, literacy and numeracy proficiency due to interrupted or no schooling in their country of origin. Our hope is to make students' transition into the mainstream school system a less confronting experience," says Miriam.
Volunteers will be recruited to participate in this pilot project. Their role will be to mentor and provide academic support to the students in their final term at the Intensive English Centres and then continue with that support as the students proceed into mainstream schooling.
"We are currently conducting consultation sessions with the Lewisham Intensive English Centre in Sydney and two of the mainstream schools who will participate in the project. Our aim is to have volunteers starting with the students in the first term of school next year," says Miriam.
In the meantime, Mercy Works Inc. will continue to source funding to grow the project and extend it to other schools.
Image above (left to right): Maddy Oliver and Miriam Pellicano (Community Links Project); Rosie Carroll RSM (Executive Officer Mercy Works Inc.), and Rita Fonseca (Manager of the Commonwealth Bank, Petersham Branch).
For more information about Mercy Works Inc. visit www.mercyworks.org.au