Mercy Work Inspires Students
In 2013, Sister Jean Gormly rsm was invited to speak to the Year 6 students at St Andrew's Primary School, Ferny Grove in Brisbane about the works of the Sisters of Mercy in our local community. During this talk she spoke to them about the work that the Sisters of Mercy and their colleagues, partners and volunteers are engaged in at The Romero Centre.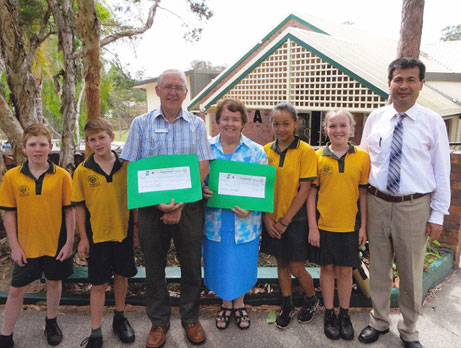 The Romero Centre is named after Archbishop Oscar Romero from El Salvador and is a community drop-in centre committed to social justice. The Romero Centre grew out of the Catholic Centre for Multicultural Pastoral Care. It then came under the auspices of Lifeline and is now a program of Mercy Family Services in Brisbane.
The work of the Centre includes:
free English Classes,
playgroup for families with children under five years of age, including families from the detention centre who are permitted to attend our program under guard.
ladies social / sewing group
emergency relief including food, clothing, householder starter packs.
programs and activities to Brisbane Detention Centre.
Community Education in schools, church and community groups
projects that draw upon the experience of refugees, their journeys and hardships, and show cases the skill and beauty of their artwork.
Youth performances / Film Festivals which include a selection of international short films, and Australian Documentaries, e.g. Between the Devil and the Deep Blue Sea.
Community Café Dialogues which connect new and emerging, and firmly established communities in the greater Brisbane area.
Pastoral Care

The children were inspired by this work and decided that they would like to donate some of the funds raised through their "Justice Day Walkathon" to The Romero Centre. At the School Assembly, $7,735.00 was presented to Sr Denise Laverty rsm, who received the generous gift on behalf of The Romero Centre. Sr Denise thanked the School Community for their valued financial support, for reaching out with compassion and justice to the broken and displaced people of our community. St Vincent de Paul Society was also a recipient for their continuing service to our local community.

After the presentation, Mohammad Rezaie from Afghanistan was invited to share his journey by boat to Australia. Mohammad also gave the group a brief synopsis of the current predicament of ethnic and religious minorities in Afghanistan. Mohammad also gave us an insight into the plight of women in Afghanistan.

Together, we continue to respond with Gospel justice to local and global concerns while being ever alert to new possibilities for ministry – searching out the places (often on the margins of church and society) where the need for the gospel is greatest.
Sr Denise Laverty rsm