Archived News Item
Mercy Week in Mildura
December 15, 2014
Living in Ireland in the 1800's, Catherine McAuley heard the cry of the poor and homeless. Her response was "the poor need help today, not next week". She committed her life to these people and the need to show this love and mercy.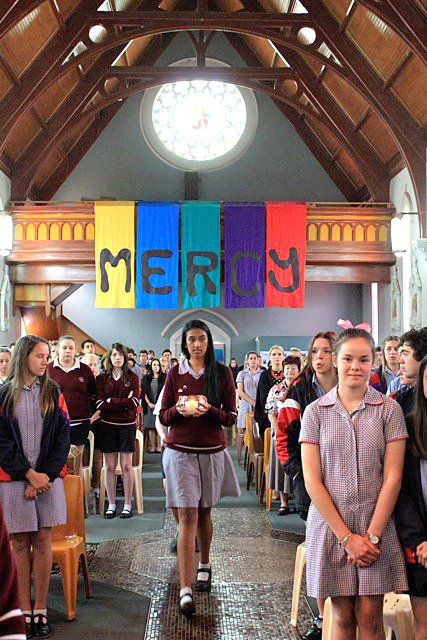 The students of St Joseph's College, Mildura reflected on this as part of Mercy Week held recently. This annual celebration honours the work of the Sisters of Mercy, founded by Catherine McAuley in Dublin in the 19th Century. The order soon spread throughout the world and to Australia and founded hundreds of Catholic schools, including St Joseph's College in 1905. Sacred Heart Primary School Mildura, St Joseph's Primary School Red Cliffs and Our Lady of the Sacred Heart Primary School Merbein were also opened by the Sisters of Mercy.
Sr Rosemary Graham rsm, a member of Mildura's Sacred Heart Parish, said the order was held in high regard in Sunraysia for its work in establishing education in the region. "They came in about December, 1905, and started school in January the following year," Sr Rosemary said. "They taught out of a church in Pine Avenue. "
As part of Mercy Week celebrations, the whole College celebrated with a Mercy Mass in Sacred Heart Church. This Mass focused on the Mercy heritage and gave thanks to the many Sisters of Mercy who have dedicated their lives to serving the needs of others.

Sr Anila Isaac rsm from Melbourne was present at the celebrations and spoke about her life and mercy journey in Pakistan and Australia. Also present were local sisters Sr Patricia, Sr Marion, Sr Grace, Sr Rosemary and Sr Caroline. Celebrant of the Mass, Fr Michael McKinnon blessed the Sisters and wished them well in their continued endeavours. The Sisters were presented with flowers in appreciation for all their personal works of mercy.
The work of the College Mercy Action Group, students and staff was acknowledged by the Principal, Mr Tony Banks for the time they donate to raising awareness and funds for Mercy Missions locally and globally. He also thanked both staff and students for showing their pride and dedication to celebrating the rich Mercy heritage and ethos that is part of the College.
Finally he express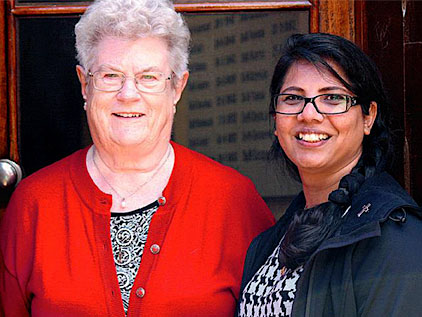 ed special thanks to all the Sisters of Mercy in Sunraysia and throughout the world, saying, "your commitment to helping those in need is an example to us all. May you never forget how much we appreciate your efforts."
The Sisters were very grateful and honoured to be part of such a wonderful celebration of Mercy.
Messages to: Rosemary Graham rsm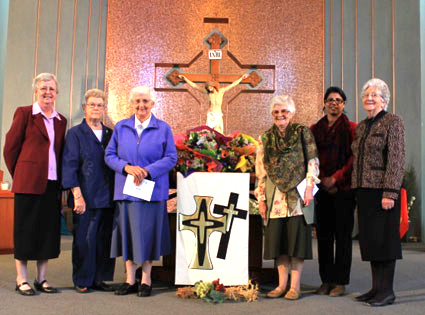 Photos:
Top – Entrance Procession at Mass
Centre – Srs Rosemary Graham (left) and Anila Isaacs
Bottom – Sisters at the conclusion of Mass
Sources:
With thanks – 'Sunraysia Daily', September 19, 2014; text and photo by Toni Brient
St Joseph's College Newsletter No. 29, 18 September 2014