Archived News Item
Mercy Village resident builds model ship replica
May 20, 2010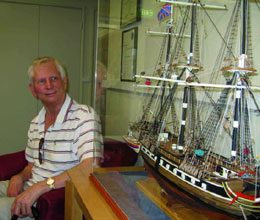 Two years ago, Ray Holwill, a resident at Mercy Village in Wembley, Western Australia, took on the mammoth task of building a model replica of the sailing ship, Barque Elizabeth, which brought the Sisters of Mercy to Australia in 1846. The enormity of this task is even more incredible given that Ray built the boat one-handed, after a stroke in 2006 left him with the use of only one arm.
The enormity of this task is made even more incredible given the fact that Ray built the boat one-handed after a stroke in 2006 left him with the use of only one arm.
In a ceremony held on April 23, Ray handed over the model ship to Mercy Village, Wembley for display in the Reception Room of the Community Centre.
"This was a difficult project, far more difficult than was first envisaged," said Ray. "However with the support of my family, friends from the village and fellow modellers the project has been completed!"
Ray scoured the world for information on the dimensions of the ship and finally tracked down the one and only drawing in existence of the Barque Elizabeth in the Plans and Photographs Department of the British National Maritime Museum.
Upon receiving a copy of the drawing, Ray set to work building his masterpiece. The intricate detail in every spar, cross-arm, the rigging and decking are testament to the many hours of painstaking work that Ray has put in to the Barque Elizabeth.
"I do hope the Sisters of Mercy get as much enjoyment when looking at this model and understanding their part in the history and social development of Western Australia, as I have had building her!" Ray said.
The Sisters of Mercy, led by Sister Ursula Frayne, left Gravesend, near London, on September 18, 1845 and arrived in Fremantle on January 8, 1846.
Mercy Village Wembley is a retirement village operated by MercyCare, a Catholic, health and community not-for-profit organisation in Perth.
Source: MercyCare.