Archived News Item
"MERCY, THE PRINCIPAL PATH ……"
May 1, 2015
The Catherine McAuley Symposium is a biennial event in Australia sponsored by the Leaders of the Congregations of Sisters of Mercy Brisbane, North Sydney and Parramatta and the Leader of the Institute of Sisters of Mercy of Australia and Papua New Guinea. This year the Symposium will be held in Cairns, Newcastle and Melbourne. Sisters of Mercy and their Colleagues, Associates and Friends are warmly invited to attend the 2015 Symposium at any one of these three venues.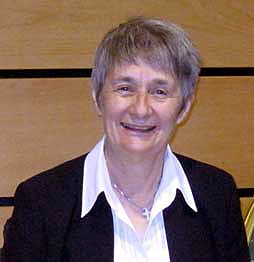 The Keynote Speaker for the 2015 Symposium is Sister Brenda Dolphin rsm. Brenda is an Irish Sister of Mercy who teaches courses in psychology, human development and psycho-spiritual integration at the Gregorian University in Rome. Since 2006 she has been the Postulator for the canonization of Venerable Catherine McAuley. Brenda has a dynamic understanding of Catherine's ever-new vision for helping to bring compassion, justice and hope to people who are longing for God's liberating Mercy.
Two speakers at each venue will respond to the keynote address from their experiences in critical Mercy ministries including the projects of Mercy Works Ltd in Papua New Guinea, youth (Cairns), homelessness, Indigenous concerns (Newcastle), family violence, trafficking of women and children (Melbourne).
Dates and venues for the Symposium are as follows:
CAIRNS
• Date: Saturday, July 18; Time: 9.30 am –1.00 pm
• Venue: Seville Conference Centre, 35 Bauhinia Avenue, Earlville
(Parking in grounds. Note: Seville has limited accommodation, moderately priced; for booking ring the Manager, Rod Cole-Clarke, [07] 40478100)
• RSVP by Friday, June 19 to denise.fletcher@ismapng.org.au

NEWCASTLE
• Date: Sunday, July 26; Time: 9.30 am – 1.00 pm
• Venue: Victor Peter Suite, Cathedral Complex, 841 Hunter Street, Newcastle West
(Parking in Cathedral grounds and nearby streets)
• RSVP by Friday, June 19 to denise.fletcher@ismapng.org.au
MELBOURNE
• Date: Saturday, August 8; Time: 9.30 am – 1.00 pm
• Venue: The Academy of Mary Immaculate, 88 Nicholson Street, Fitzroy
• (Parking in nearby streets or Melbourne Museum Carpark opposite school, enter from Nicholson or Rathdowne Streets)
• RSVP by Friday, June 19 to denise.fletcher@ismapng.org.au
For further enquiries contact the Symposium Coordinator
Caroline Ryan RSM
E: caroline.ryan@mercy.org.au
M: 0409 988 750