Archived News Item
Mercy students embracing social justice
August 27, 2009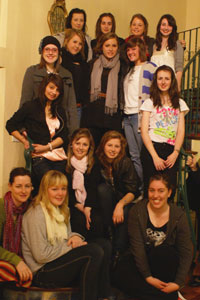 The Young Mercy Justice Network (YMJN) began in 2005 as an initiative of the Adelaide Sisters of Mercy with local students. In 2009 it has evolved into a "leadership-for-social-justice-action-and-change" programme for year 11 students from Mercy schools in Western Australia, South Australia, Victoria, New South Wales and Queensland.
Each year students participate in three weekend gatherings: one each in Adelaide, Perth and Melbourne. Anne Foale RSM (Adelaide) reports on the network's recent Melbourne gathering.
According to Ashlee, a senior student from Mount Lilydale Mercy College in Melbourne, "Alone you can have an opinion and a view of the future, but together we can achieve that future".

Ashlee's reflections capture so much of the experience that the students valued about our last Young Mercy Justice Network (YMJN) gathering for the year held at the Christian Brothers Centre, "Amberley", in Victoria from August 7-9.
It was our third gathering for 2009 and was made extra special by the warm welcome and hospitality we received from members of the Exodus Community an outreach community in West Heidelberg, one of Melbourne's most disadvantaged suburbs.
We spent most of the Saturday with the community, gardening with local residents, window-cleaning and doing other odd jobs for the local people. It was the highlight of our weekend and provided the opportunity for our students to hear and experience some aspects of life for people who are doing it tough.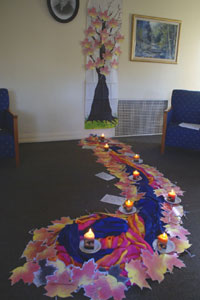 Kate Walsh, Co-ordinator of the YMJN, asked the students what they had valued about our three weekends together this year. Their comments were very affirming of the process that we have used over the past four years:
"These weekends inspire us to keep working at making the world a better place"; "we are encouraged to keep having ideas and finding ways of putting them into practice"; "we learn to value the importance of small projects that contribute to other people's lives"; and "our gatherings encourage me to be less judgemental and to have a deep respect for each person as we listen and share with each other; it enables me to put into action the values of mercy and justice".
Thankyou to the school communities across WA, SA, VIC and Sydney for supporting the network in 2009.
For further information, contact Anne Foale RSM Email: afoale@bigpond.net.au
From: Anne Foale RSM (Adelaide)