Archived News Item
Mercy Student Support
October 28, 2014
In 2008, when I was teaching Religious Education at Mercy Secondary in Yarapos, PNG, I met a number of girls who were doing very well academically, but because of their personal circumstances, had no opportunity of going on to tertiary education. They were not only very intelligent, they were also girls of great determination and commitment to their people, so we Sisters working with them felt it was wrong that they could not utilise their gifts for the good of all.
Consequently, when Sister Mary Christine Randle and I returned to Australia, we discussed this issue with the leaders of our Congregation (the former Cairns Congregation) and it was decided the assistance that was already in place to assist secondary students from PNG would be extended to include girls needing help to be able to access tertiary education in PNG. I also began a fundraising campaign around the Diocese of Cairns, talking to Parish and school groups telling them the story of these girls and asking for their help. We have had quite a good response, with a couple of Parish groups committing to a yearly donation, schools chipping in regularly, and some friends giving personal donations to keep the fund going. Some people have opted to "adopt" one of the girls and help them, to make it more personal.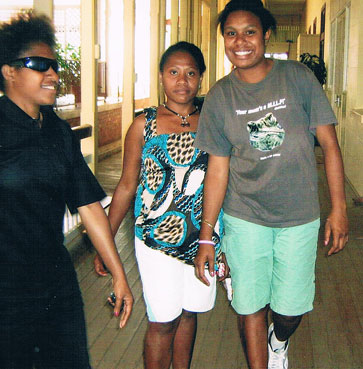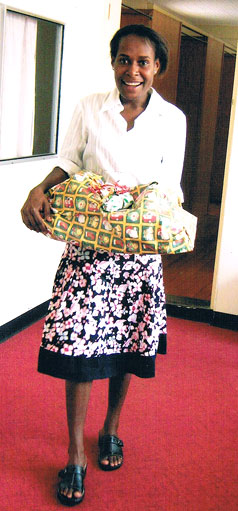 It was difficult to select only a small number of the students, when most of them were in similar circumstances, but we settled on seven who we thought would benefit greatly from the assistance. Five years later, Christine has graduated as a doctor, and is now doing her residency in Boroko. Georgina is working as a Pharmacist in Milne Bay, Edith is completing a Business degree and Jessica has completed her degree in Town Planning, but is presently playing Soccer with the National Soccer team. Laurel changed courses and is to complete her degree in Education at Madang next year. Miriam and Pauline are now teaching, after completing studies at St Benedict's at Kaindi. We have also been asked to help Meroma, a disabled girl who wrote and told us of her circumstances, so we have sent the money for her to begin University.
There were also a number of girls in families we had met who wanted to go to Mercy Secondary College in Yarapos, but could not afford to do so. The situation has improved with free education now being a policy, but there are still expenses for books, uniforms, projects and the like that preclude some girls from being able to complete their secondary education. We have been able to help in this area as well and continue to do so.
With most of the girls now through, we are looking at continuing the program with a new group, in the coming year and are in the process of consulting with Mercy Secondary for recommendations regarding possible candidates.
People and schools have been very generous with books and clothes as well as money. We have sent a number of consignments of really good text books, books for the library and stationery over the last few years but this activity has come to a halt because of transportation problems. As we still are able to supply material we are looking for other ways.
From a small beginning we are very proud of the young women who are now contributing to their communities and look forward to continuing this support in the future.
Messages to Anne Moule rsm