Archived News Item
Mercy stories from World Youth Day continue
August 5, 2008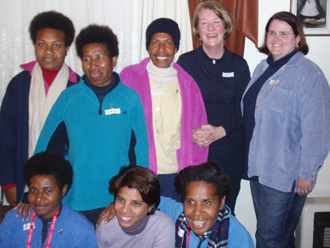 During the recent World Youth Day celebrations in Sydney, over 1,000 students, staff, sisters and friends from Mercy schools around Australia and the world gathered for a one-day conference at Monte Sant' Angelo College in North Sydney. Among those participating were some newer Institute members and some who've been around for a bit longer! Sisters Nance Cale (Wilcannia-Forbes), Elizabeth Young (Adelaide) and Robina Einde (Papua New Guinea) offer their reflections.
From Nance Cale RSM (Wilcannia-Forbes)
On Sunday, July 13, 25 of us gathered at Allawah to meet our newer members and share a "good cup of tea" as they prepared to celebrate World Youth Day here in Sydney.
All of us enjoyed the company of our young Mercy women as we listened to their stories when they introduced themselves to us. There was Anila from Pakistan, Ali from Adelaide and the five PNG sisters – Cathy, Robina, Hilda, Rachel and Kunnie. We were also joined by Nerida and Karon, Carmel Carroll, Kaye Evans and a friend from the USA, Meg.
There was plenty of excitement and enthusiasm as all met old friends or made new ones.
Those of us who had pilgrims staying with us enjoyed their company and were inspired by their stories as the week unfolded. There were even a few tears shed on Central Station a week later as we farewelled them to Yamba.
Our evening at Allawah ended with the obligatory Viva La Compagnie!
From Elizabeth Young (Adelaide)
Coming together with nearly 1,000 Mercy students, staff, sisters and graduates was an amazing experience to start World Youth Day. At Monte Sant' Angelo, we were inspired with speakers and given opportunities to share and dance together.
One of the first speakers was Briannon Stevens, a Mercy graduate, who old us of her growing awareness of social justice issues and her work with the homeless. Then Melanie Hogan passionately described her film work with Aboriginal Australians (she produced Kanyini), and encouraged us all to 'have a yarn' with our native peoples. Finally, Sister Anila Isaac, a young Pakistani Mercy, shared the journey of her ground-breaking work with a rural school.
After the talks I helped to run an information booth about OSMercy, a social justice group of Mercy graduates. We were able to talk to a lot of students and graduates about our work and made many useful contacts. During the day we also shared a lovely lunch and tea together.
The day was rounded off with a 'welcome to country' and an Aboriginal dance display by Richard and Louise Campbell. They invited some of us to join in and learn the animal dances. In case we didn't get this chance again everybody participated in energetic dancing. We all finished tired, but happy at the end of a successful day.
From Robina Einde (Papua New Guinea)
The twenty-third World Youth Day in Sydney this year, 2008, was magnificent and moving. About 100,000 youths and pilgrims all over the world came to welcome Pope Benedict XVI and participated in the celebration of the Eucharist with him.
Pope Benedict arrived on Thursday but the celebration began on Monday and went for a week. During Pope Benedict XVI's arrival, the crowds gathered to welcome him at Barangaroo. He was driven into the crowd and to the altar by taxi, but the taxi went so fast. The people were all lining up with their cameras to take photos. Some were fast enough to get photos and some of us missed him.
I was overjoyed when seeing the youths and pilgrims of different coloured skins raising up their own country's flag, singing, beating their drums and strumming guitars to welcome our Holy Father. It was a great and pleasant time for God's people to experience God's presence through one another.
During that week the place was guarded by the volunteers of World Youth Day and the police were very protective. They made sure people felt safe to walk around and directed them to the right places when they asked for help.
One night, Sisters Cathy, Hilda, Kunnie, Rachael, Carmel, Ali from Adelaide, Anila from Pakistan and I were coming home at 8.30pm. We waited for the train at the railway station and after five minutes, the train came. We were so excited to go home we got on the train and got carried away with the singsing: JESAS LAIKIM OLGETA in Pidgin. When we came to our railway station in Kogarah where we were to go straight home, we ended up in a different railway station. Then we realised we had missed the right railway station. We changed trains and at last we arrived at Kogarah. We raced to the bus stop and Sister Pat was there waiting for us and we went home together.
I feel Catholic is universal and a special gift from God. Even though we are from different countries and of different colours, we are one in the body of Christ.
I would also like to say a sincere 'thank-you' to the sisters in Australia who made this chance available to us to travel to Sydney for World Youth Day. You provided our accommodation as well as providing for our personal needs. Thank you very much.