Archived News Item
MERCY SISTER 'SR FLO'
June 27, 2016
Firstly, I would like to thank Sr Florence O'Sullivan for her generosity of spirit. We spoke for over an hour about her ministry and it is impossible for her enthusiasm to go unnoticed.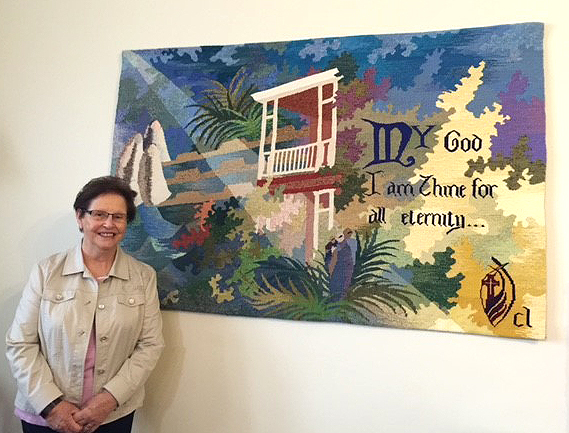 Sr Flo's story is the second in our series 'Mercies of WA'. Her story is one of leadership, education and international mission within the Mercy Order. The series recognises the achievements of the Sisters of Mercy in Western Australia over the last 170 years.
Flo O'Sullivan was born in the City of Limerick in Ireland. There were four girls and three boys in her family. Flo attended a school run by the Sisters of Mercy before God's call to become a Mercy Sister drew her to Perth, Western Australia.
After entering the Mercies at the age of seventeen, her first teaching post was Mercedes College. Sr Flo taught all subjects but, as a natural artist, most enjoyed teaching art. This young Irish woman experienced much of regional and suburban WA; teaching at Bayswater, Guildford, York, Kalgoorlie, Attadale (both Santa Maria College and Mel Maria) and Harvey. Following this, she spent several years teaching in Pakistan. Flo was principal for her last seventeen years in schools. She then moved to the Catholic Education Office, working on the Religious Education curriculum. She especially enjoyed a sabbatical year in Toronto, Canada.
In 1988, Sr Flo volunteered to work in Pakistan, joining six other Sisters. After learning the Urdu language, she started at St John Vianney Peshawar, where 1,300 boys were enrolled. She also looked after the junior school with 500 pupils, while opening an afternoon centre for women and girls called Urat ke Jugga – Women's Place. With funds from supporters back home, she paid young girls with basic Urdu education to teach Urdu to illiterate women. During this time, she also created a crèche.
On the headmaster's advice, Sr Flo funded and organised essential facilities in the school and community. While managing the school programme, her art classes were a favourite with the children. In this mission, she sensed God's presence in the people's cheerfulness despite their poverty and repression.
On returning to Western Australia, Sr Flo became Director of Mission at St Anne's Hospital, Mount Lawley. The role focused on ensuring a strong Mercy ethos within the hospital. In 1996, she proposed that Antoinette Carrier, a Perth tapestry weaver, be commissioned to make an historical tapestry. The local Spinners and Weavers Society and hospital staff assisted. The tapestry celebrates the arrival of the Sisters of Mercy to the state and the purchase of Killowen House in 1937, where they established their first hospital. The tapestry is now permanently displayed at the Mercy Heritage Centre Perth.
In later years, Sr Flo managed the Former Migrant Programme at the Catholic Migrant Centre, worked in the Pastoral Care Department in St John of God Hospital, and currently works at Edmund Rice Centre in Mirrabooka teaching English to refugees. Leisure time is used pursuing her love of oil painting, including landscapes and profiles.
This summary of Sr Flo's life and ministry does not do her justice, but I hope our readers enjoy it.
Messages to: Odhran O'Brien – Writer in Residence Mercy Heritage Centre Perth.
Photo: Sr Flo with the woven tapestry at Mercy Heritage Centre Perth.