Archived News Item
Mercy sister's experience of detention on Christmas Island
March 11, 2010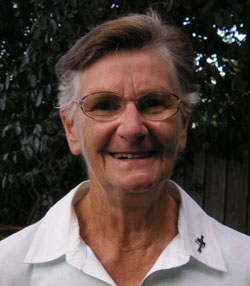 Late last year, the Institute of Sisters of Mercy of Australia formed a partnership with Jesuit Refugee Service to provide pastoral services for asylum seekers living at Christmas Island's detention centres. Maureen Lohrey RSM from Melbourne was the first Sister of Mercy to participate in this collaborative venture. She spoke recently to "Mercy Matters", the Institute's e-newsletter, about the experience.
BY Stephanie Thomas
Melbourne Sister of Mercy, Maureen Lohrey RSM is frustrated by the fear-mongering, sensationalism and negativity of some Australians about the number of asylum-seekers arriving in the country by boat, and believes these attitudes are based on ignorance.
"If only they could meet these people and talk with them and know what they have gone through and what they are going to go through if they return to their countries," she says.
"We have no idea of their suffering… All they want to do is get their families out and have a life."
Maureen, who spent 15 years from the late 1980s until early 2000s working with refugees in Asia and Africa, recently returned from a two-month placement on Christmas Island.
Working with Jesuit Refugee Service and supported by the Federal Government's Department of Immigration and Citizenship, Maureen's role was to be a pastoral presence among the 1,800 asylum-seekers living at the island's two detention centres.
Maureen is filled to the brim with tragic stories of people who have fled their homes. The vast majority are from minority ethnic and religious groups such as Hazaras from Afghanistan, Tamils from Sri Lanka, Kurds from Iran and Iraq, and Rohingyas from Burma.
"I could write a book on stories I've been told – terrible stories – and I know they are true," she says.
"Their way to get to freedom and a life is unbelievable. You'd have to have nerve and courage beyond anything to attempt what these people have attempted. I've got only the utmost admiration for them."
She says the Hazaras' experiences of the Taliban are "blood-curdling". People are pulled from cars and beheaded before their eyes. While some have managed to take their families across the border to Quetta in Pakistan, it's still dangerous there because the Taliban continue to target them.
"The Taliban is persecuting Hazaras relentlessly," says Maureen. "There's no way they can live there; they have to get out."
Maureen recalls an encounter with an Afghani mother of three whose husband was killed by the Taliban. When her 12 year-old daughter's foot was mangled by a bomb, she took her family to Quetta so the girl could receive treatment. After several years in Pakistan, the family made their way to Malaysia and Indonesia. From there, they travelled in a small boat to Christmas Island.
"What a journey!" exclaims Maureen. But not all are as lucky.
Maureen tells the story of a 19 year-old boy who travelled by boat with his father and 39 other men from Sri Lanka. As with most of the boats that arrive on Australia's shores, theirs was unseaworthy, and after 59 days it broke up. Most of the men spent 18 hours-plus clinging onto debris in rough seas before a Thai fishing boat picked up 27 of them. The boy's father was among the 12 who drowned; only one body was found.
Maureen speaks of a Kurdish man she thought looked about 70 but was only 45. "Their suffering just comes out in their faces so much," she says.
So what does Maureen say to those who blame the Australian government for the increased numbers of asylum seekers arriving on our shores? "They are completely missing the global picture," she says. "The world is in a sorry state unfortunately."
"I think the government is doing what it's got to do. Compared to the people going from Africa and other countries into Europe, this is a drop in the ocean."
To counter the fears of some, Maureen adds: "Any person who gets a visa from the Australian government is screened very well. "It's hard to imagine that terrorists would be able to get through."
Maureen says the living conditions on Christmas Island are quite adequate. While the two detention facilities are maximum security – a large complex for about 1,400 men and a smaller one for about 300 to 400 families, mostly women and children – she didn't get the impression she was visiting a prison.
She says that Australian immigration staff are doing "wonderful work". She also found the staff of Serco – the British company contracted to provide all services for the detention centres – very good to work with. "They treated people with great dignity and respect," she says.
For Maureen, the worst part of the detention centre experience is the long period of time that people wait for visas. "Some manage reasonably well, but others get sick with worry," she explains.
"Every Thursday afternoon immigration personnel provide a list of people who have received visas. These can then prepare to leave the following Wednesday on a chartered flight to Australia and freedom – the first they've ever known."
Maureen says there is great celebration for them, but for those who have not received a visa, depression hits heavily.
"They're traumatised by what they've been through and traumatised by the fact that their own families are still in danger. That's weighing on them terribly."
While people have the opportunity to reapply for visas, the process can be a continuous disappointing cycle.
When Institute President, Nerida Tinkler RSM called for Sisters of Mercy with refugee experience to go to Christmas Island last year, Maureen jumped at the chance. She was keen to offer a caring pastoral presence – "talking to them, spending time with them, hearing their stories, giving them encouragement".
She "loved being there" and was sorry she couldn't stay longer than two months. But she also found the work for one person draining and the humidity intense. "I knew, at aged 76, that I couldn't do much more," she explains. "If you had a team it would be so much easier."
Melbourne Sister of Mercy, Lizzie Finnerty arrived on Christmas Island in mid-February and will remain there until March 17, after which, Perth Sister of Mercy, Joan Kelleher will begin pastoral work in a full-time capacity.
Editor's note: This ministry initiative with Jesuit Refugee Service was a direct response to a proposal made at the November 2009 Mercy Justice Conference for the Institute to send an appropriately experienced Sister of Mercy to work in a pastoral capacity with asylum seekers on Christmas Island before Christmas 2009.