Archived News Item
Mercy Sister Honoured
March 28, 2014
Sr. Helen Monkivitch rsm has been recognized for a lifetime of leadership, generosity and innovation by being named on the 2014 Victorian Honour Roll of Women, announced on 8 March as part of the International Women's Day celebrations in Victoria. Sr. Helen was one of 20 recipients honoured for their contributions to a range of fields such as science, engineering, health, education, arts and community services.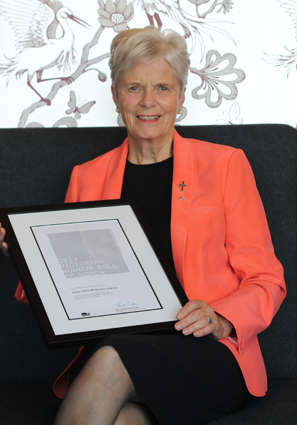 In 1988, Sister Helen was appointed as the first female President of the Australian College of Health Service Executives. In 1995, she was one of the founding members of the Caroline
Chisholm Centre for Health Ethics, which remains in operation today. In 1997, Sister Helen was instrumental in the creation of Mercy Health. Her vision was to bring together the various health and aged care ministries of the Sisters of Mercy under one governing structure to ensure their long-term sustainability.
Today, Mercy Health is a highly regarded provider of public health, residential aged care and community-care services across Victoria, southern New South Wales and the Australian Capital Territory. Sister Helen continues to provide her exceptional knowledge and service in her current role as Executive Director Leadership and Mission, Mercy Health. Sister Helen was an inaugural board member and a key driver in the establishment of Catholic Health Australia. This organisation is now arguably Australia's foremost advocacy voice focused on better health and aged-care outcomes, particularly for marginalised and disadvantaged people. In 2006, she was awarded an Officer of the General Division of the Order of Australia in recognition for her service to the community, through the establishment of major health, aged and palliative-care facilities in Victoria, and to the Catholic Church. In 2010, Sister Helen shared her wealth of knowledge and expertise in hospital administration to assist with the establishment of the medical, nursing and administrative structure of a new 100-bed Mother of Mercy Hospital in Tacloban City, Philippines.
Sister Helen says:
As a Sister of Mercy, I have been provided with leadership opportunities to assist organisations such as Mercy Health, to continue their vision of providing care. The driving force behind my commitment to healthcare has been an absolute passion and love of serving those in need. This nurturing of others and the ongoing collaboration with people from all walks of life, has enriched my life immeasurably.
Messages to:Helen Monkivitch rsm