Archived News Item
Mercy Refugee Service celebrates Refugee Week
July 9, 2008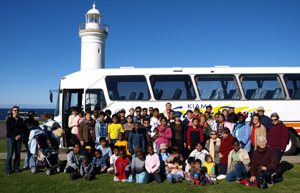 As part of this year's Refugee Week celebrations (June 15-21), Mercy Refugee Service's Community Links Project in Wollongong (NSW) organised a picnic and sightseeing tour for volunteers and clients involved in the project.
According to Melinda Hammann, Co-ordinator of the Community Links Project in Wollongong, about 70 people participated in a bus trip around Jamberoo, Saddleback Mountain and Kiama.
"We made a stop at the Kiama blow-hole followed by a picnic at Hindmarsh Park, Kiama. There was plenty of food, soccer, ice-cream, skipping, running races and sunshine! Photos show evidence of this!"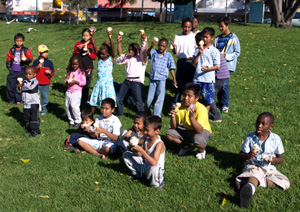 The Community Links Project, which receives funding from Mercy Works Inc. and the Department of Immigration and Citizenship, began in Sydney in 1999 and Wollongong in 2006.
The project recruits, trains and supports volunteers to offer a welcoming hand to refugees settling in Australia.
Once trained, these volunteers provide practical assistance aimed at developing people's skills, enabling them to operate confidently and independently in their new community.