Archived News Item
Mercy Profile – Sr Joanne Molloy rsm
May 22, 2014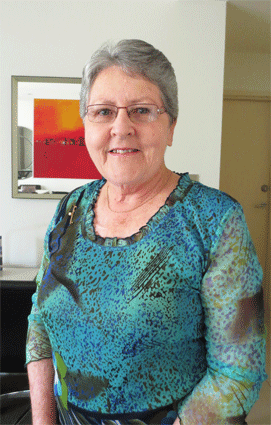 My name is Joanne Molloy and with my parents, Bill and Alice, and my younger brother, Peter, I grew up in Mackay, Queensland with a strong connection to my Irish-Catholic forebears whose deep faith was a memorable example to me. Good manners, clean shoes, tidy hair, work hard, honour a commitment and tell the truth were the order of the day in our working-class household. My Christian initiation and my schooling was within the faith community of St Patrick's, Mackay, where I was educated and greatly influenced by our own Mercy Sisters. As well, involvement with YCS and YCW, based on the ideals of Cardinal Cardijn, were very real factors that influenced the direction my life would take.
At the completion of my secondary schooling, I worked for two years and then, in 1965, entered the Rockhampton Sisters of Mercy. Vatican II was an event of far-reaching significance for us all and my early years of formation as a Sister of Mercy coincided with the release of the Council's Decrees and teachings. Among many other challenges, the Council placed great emphasis on the vowed life being a particular way of living out one's baptismal commitment. This theology, together with the example of Catherine McAuley, inspired and motivated me to respond to the deeper call that I was sensing and I was professed as a Sister of Mercy on 2 September 1967.
After training at the Catholic Teachers' College, Mount Street, North Sydney, I taught younger children in our Diocesan primary schools – South Bundaberg, Mount Morgan, Sarina, Neerkol, South Mackay, North Mackay and Our Lady's School, Rockhampton. I enjoyed these years of teaching, the friendships I made with many parents and still derive pleasure in meeting former pupils and their families. New horizons appeared and in 1989 I became a member of the Cathedral Parish Team where I was involved in the many pastoral and liturgical activities of a busy parish. In particular, the liturgical formation and education of that era energised me and enabled me to join with others in encouraging and providing full, active, inclusive and conscious participation in liturgical celebrations.
In the mid 1990's, a series of events unfolded and my ministry changed direction. I was drawn to take responsibility for the Archives of our then Rockhampton Congregation. Without any formal training in this discipline, I learnt 'on the job', mainly from the professional advice of those Sisters from other Congregations who did have academic qualifications in this field. Our first gathering of Australian Mercy Archivists was in Adelaide in 1995. Since then, education in current archival practices and procedures, networking, support and strong bonds of friendship has been forged as a result of our biennial gatherings.

While there are many tasks associated with keeping archives, the focus of my ministry has been to provide a service – to our administration and to the many people who contact me seeking information. Because of the responsibility we had for children in care at St Joseph's Home, Neerkol, a great deal of my time is spent in sourcing details for former residents and responding compassionately to them as they try to put together the jig-saw of their broken lives. Another important aspect of my ministry is to ensure that the Mercy story, held sacred by us all, will be retold in effective ways; being in touch with the graced lives and struggles of so many heroic women who have gone before us enriches my sense of appreciation for our collective Mercy identity.
I am grateful for all the experiences of my journey and for the gift of each new day. My life has been enhanced by the many people with whom I have lived and worked and the countless opportunities given to me. In particular, I am especially grateful for the love of family and cherished friendships, the spontaneity of children, the wisdom of the aged and the many chance acquaintances who walk the road of life with me.

Messages to: Joanne Molloy rsm