Archived News Item
Mercy Place Montrose Official Opening and Blessing Ceremony
August 29, 2019
When Wurundjeri Elder and Traditional Custodian Aunty Irene Morris welcomed families, friends and dignitaries to the official opening and blessing of Mercy Place Montrose on Tuesday July 30, the significance of the event was not lost.
The newly-opened Mercy Place Montrose was designed with its residents at the centre of every decision, and as Aunty Irene looked around the light-filled courtyard, it was clear that the brief had been met.
'In our culture, our elders are the most important [people],' she said.
'It's time for us to look after them. I believe this home will do that [for its ageing residents].
'The new home, set at the foot of the Dandenong Ranges, features 12 small household living homes, a café, grocery store, a hairdresser and a number of communal spaces where residents can mingle and chat.
However, it is not only the way the home looked that impressed guests at the opening.
Institute of Sisters of Mercy of Australia and Papua New Guinea Institute Leader Sister Eveline Crotty RSM was instantly struck by the home's 'feel'.
'As I walked into this beautiful facility, I thought the most important element is not what we can see around us – the beauty and the ambience – it is the aspect that we cannot see but we can feel,' she said.
Mercy Health Board Chair Ms Virginia Bourke, with Sr Eveline, officially opened Mercy Place Montrose and the Coolock and McAuley households following a traditional smoking ceremony.
Archbishop Emeritus of Melbourne Most Reverend Denis J Hart DD then blessed the home and chapel before joining the gathered guests in the café for coffee and afternoon tea.
On display in the chapel were some treasured gifts kindly donated to the home by Sr Moira Sheedy RSM, who has been a long-time supporter of Mercy Place Montrose and was a special guest at the opening.
The residents, who moved into the small households in April, enjoyed the day's activities and proudly showed off their new home to guests, family, friends and members of the local community. Ninety residents moved into the new development, while a further 32 will move into similar households when the second phase of the home's redevelopment is complete.​
For more information – https://residential-care.mercyhealth.com.au/homes/mercy-place-montrose/
Click on the arrow below to watch a short video of the opening.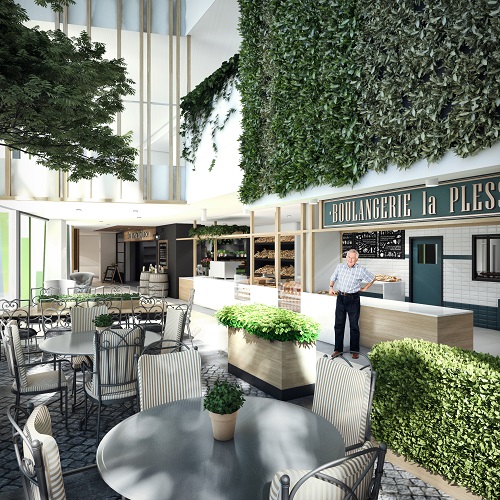 The cafe
Click Here to Return to Just Mercy