Archived News Item
Mercy participants cook for Carevan
February 5, 2020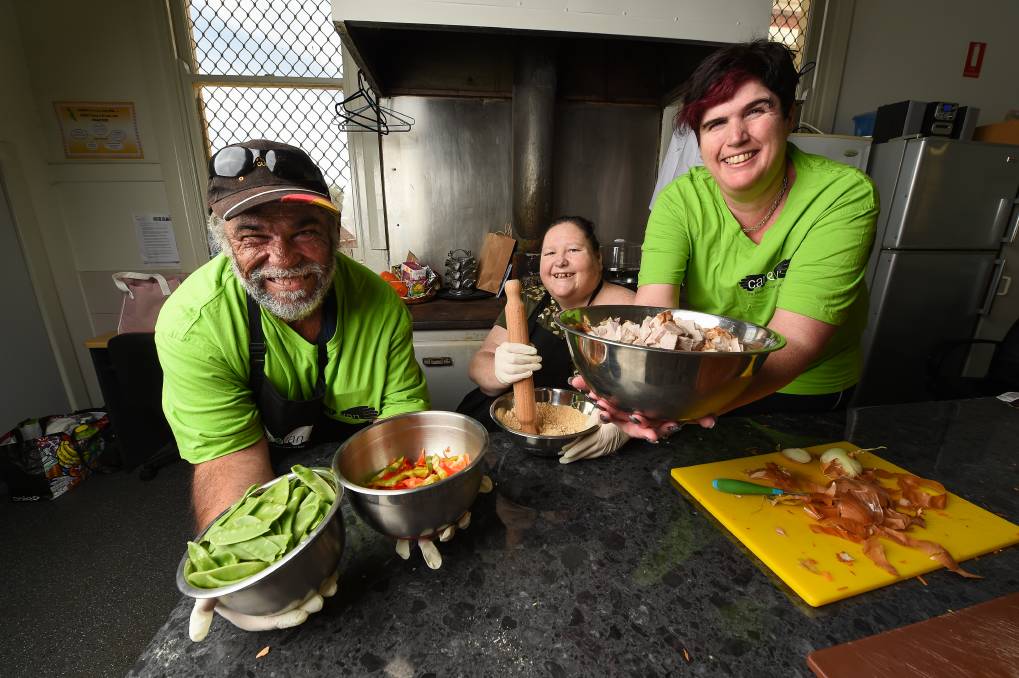 Mercy Connect program participants Daniel Quinn, Susan Healy and Emily Nagle cook meals for Carevan in Mercy Connect's Bottlebrush Cafe at Thurgoona. Picture: MARK JESSER. (Originally appeared in the Border Mail 22/01/20).
Mercy Connect participants have added to the many hands that create meals for people in need attending Carevan.
In a new partnership, up to 10 participants cook in the kitchen at Mercy's Thurgoona site on Wednesdays.
Carevan project officer Leanne Johnson said sweet and sour pork and pumpkin soup were on the to-do list yesterday. "We do four days a week with the schools, going between eight schools in Victoria and NSW, but we also do Mercy Connect," she said.
"They've always got a smile on their face." Ms Johnson said she even ran into a former visitor to Carevan at Mercy Connect's Thurgoona site. "He actually lives here now – he was homeless for a while and really struggling with mental health," she said. 'That was really heartening to know he got that help and he's now here."
Daniel Quinn is among those who cook with Carevan volunteers on Wednesdays. I want to go and give them a hand one night, see how it goes," he said.
Mercy Connect chief executive Trent Dean said the new partnership built on the program offerings. "We already had Bottle brush Cafe at Thurgoona where participants learn life skills," he said.
"They're learning like skills and nutrition information … but most importantly they're helping the community."
This article originally appeared in the Border Mail 22/01/20
Messages to: Trent.Dean@mercyconnect.org.au