Archived News Item
Mercy Newer Members Conference: July 3 – 9 2011
July 26, 2011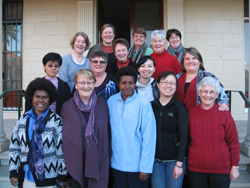 Travelling from Wanepap (PNG), Dunedin, (New Zealand), Adelaide, Melbourne, Parramatta and Sydney – the gathering of ten candidates, newer members and formators took place recently at the Good Samaritan Congregation Centre at Glebe Point.
As the theme suggests the time together presented an opportunity for each of us to receive input, reflect and share on how we work together for the "transformation of our world" – personally, locally and globally .
Significant highlights of the week were:-
A conversation, via Skype, with Deidre Mullan RSM & Carol Rittner RSM from Mercy Global Concern in New York. Deidre & Carol both emphasized the importance of 'having a singular focus – eg the education of girls and women' who are then able to help others. Our thanks to Cathy Solano for making this connection possible.
Patricia Fox's facilitation of a theological reflection process. Each of the newer members was invited to share an event from her own ministry which has disturbed, encouraged and / or challenged her as a Sister of Mercy. As this took place the respect shown for each other was very evident. The time was sacred – listening to each story and learning more about the milieu in which each lives out some of the "dailyness" of her Mercy life.
Some of the critical questions /statements which came from the stories shared were..
How do I invite new possibilities?
The loneliness, emptiness, lack of power for decision making … eg. In dementia
An ingrained boredom (ennui) among urban Aboriginal women seemingly unable to break free from generations of cultural and spiritual brokenness.
How do we accept injustice as part of culture?
How do we 'read' the 'right' response in a no-faith/mixed faith culture?
Why listening is an important response to 'hard faces'.
We can create outcasts or we can welcome the stranger; how to deal creatively with difference?
Does involvement in bureaucratic systems dehumanize people?
Bishop Pat Power spent time with the group both listening, informally, to what was shared and sharing of his own personal story. The high value he places on the role of Religious in the church and our contribution as ecclesial women was appreciated and encouraged. Bishop Pat invited us to be unafraid to "speak the truth in love!".
Kathleen Williams lead a gentle, poetic reflection on 'a spirituality of compassion' .
An important factor which cannot be forgotten is …"FAITH = the eyes of being-in-LOVE with God"
An education segment presented by Helen Law and Anne McGuire on the important link between the 'Key Principles of Catholic Social Teaching' and 'Mercy Works'.
The importance of the 'newer members' session on the last day which enabled each one to share the 'highs and lows' of our time at Glebe and to talk together about our lives as Candidates/ Sisters of Mercy in this time in our Mercy history in Australia and PNG.
We welcomed Nerida Tinkler and Caroline Ryan who joined the group for lunch on one of the days.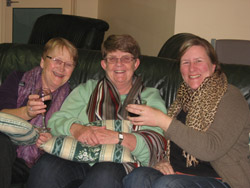 The ending of this special time together at Glebe Point was highlighted by a ritual in which we physically moved through an experience of meditation and prayer on Scripture and sections of the Refreshed Constitutions which helped to weave together the key aspects of these days. The ritual concluded with a moving threefold anointing, which reflected the sensitivity, compassion and "hands-on" desire in each of us who is striving to be a faithful Sister of Mercy to be part of the transformation of our world.
Desma Clarke rsm and Anne McGuire rsm.