Archived News Item
Mercy Mission
August 30, 2014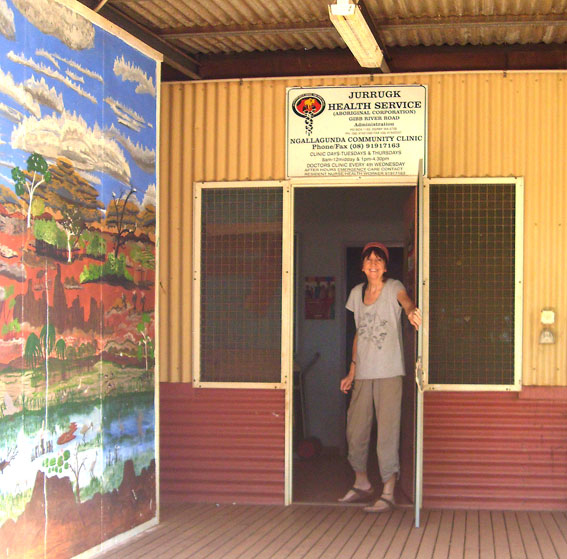 As a nurse for the Sisters of Mercy, Mary-Jane Lynch had little idea what she was letting herself in for when she volunteered to relieve a colleague for six weeks at Balgo Aboriginal Community in Western Australia's Great Sandy Desert. That was 14 years ago, and Sister Mary-Jane has been nursing in remote communities pretty much ever since.
Raised in Geelong, Vic, Mary-Jane did her general training and midwifery qualifications at Melbourne's Mercy Hospital for Women. She was working as a midwife when she took the initial posting to Western Australia. "I'd always imagined I'd end up somewhere that would be difficult for a nurse with a family to go to," she says. "I thought that would be overseas, but after six weeks at Balgo I knew I loved the life and it just felt right. So I asked for another remote posting and I ended up back at Balgo where I stayed for five years."
Mary-Jane then spent four years at "Ringer Soak" (Gordon Downs) near Halls Creek before she took her current posting at Ngallagunda on Gibb River Station, 370 kilometres north-east of Derby, where she has been for the past five and-a-half years. As well as running the clinic in the Aboriginal community that, depending on the time of year, numbers between 30 and 60 people, she also looks after the Dodnun Community, which is about 40 minutes away by four-wheel-drive.
Mary-Jane, who is "40-something", usually works 12 weeks on call, around the clock, then takes a two-week break. She says she has become something of a 'Jill' of all trades. As well as providing regular health care and education, emergency treatment and supervising medical evacuations, all sorts of tasks ranging from mending a broken bore to fixing the generator can fall to her. Most of the time she has access to a landline for communications with doctors at the Royal Flying Doctor Service (RFDS) base in Derby but, after big storms, it can go out and she's left with a satellite phone, which works "most of the time".
During the wet season, the Gibb River Road becomes impassable and the community can be isolated for up to four months. Occasionally, when the river is in flood, patients have to be ferried across by boat or medications carried across the river by strong swimmers. "We are supposed to get a mail plane once a week, but that depends on the state of the airstrip," Mary-Jane says. "Last Wet was a big one and the strip wasn't safe, so we went a month without a plane. Fortunately we didn't need to have an evacuation during that time because it would have been by helicopter. There's a flat area, which is a sort of a basketball court, that we use for a helipad."
The task of driving the airstrip to assess the depth of the wash-outs and its viability for landings is also part of Mary-Jane's job description, as is maintaining the 35 lights that have to be set out along the strip if a plane needs to land at night. Before 'the wet', the community focuses on getting pantries stocked with tinned goods for the inevitable periods of isolation. "Fresh food is always a luxury, but particularly so during the wet," Mary-Jane says. "However once the rivers run so do the fish, so at least we have plenty of fresh fish to eat."
With diabetes and heart disease two of the major health concerns for the community, Mary-Jane admits that ensuring a healthy diet is a constant challenge. She's hopeful of establishing a vegetable garden after the rains and says that several members of the community are highly motivated to make it a success. She says she looks forward to lots of fresh fruit and salads when she hits the 'big smoke' of Broome or Derby.
Time in the city is certainly treasured. "A couple of times a year I go down to Melbourne to catch up with family and friends, whom I miss dearly," she says. "I love being able to go out for a coffee or a nice meal, have a proper haircut and buy nice clothes. Your level of appreciation for small things goes up when you live up here, but most of the time I wouldn't have it any other way. Because we're a small population, anything that happens impacts on the whole community, so there's a strong sense of everyone pulling together. I feel like I've still got a lot of energy and, while I can, I'll stay here. I do believe it's my calling to be here."
Messages to Mary Jane Lynch
Story source with thanks: RM Williams OUTBACK magazine Issue 51
From the article 'Health in the Bush' by By Pamela Robson and Kirsty McKenzie