Archived News Item
Mercy milestones
May 4, 2007
Brisbane Sisters of Mercy gathered recently to celebrate the jubilees of fourteen of their sisters. Two events were held to acknowledge the remarkable commitment and service of the golden, diamond, platinum and oak jubilarians. Sister Elizabeth O'Keefe reports.
Mercy Sister jubilarians with a combined 810 years of service were honoured in a ceremony at All Hallows' Convent Chapel in Brisbane recently. Among those present were three diamond jubilarians (60 years) and seven golden jubilarians (50 years).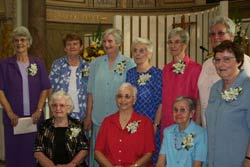 The Mass was attended by 140 Sisters of Mercy from the Brisbane Congregation. The celebrant was retired Father Harry Bliss.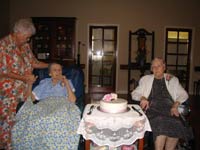 A second celebration was held at Emmaus Nursing Home for the oak jubilarian, Sister Mary Eunan Hickey, who celebrated 80 years as a Sister of Mercy, for diamond jubilarian Sister Canice Ward (60 years), and for two platinum jubilarians (70 years), Sister Mary St Dorothy King and Sister Mary Everard Leane, who were unable to attend the celebrations at All Hallows.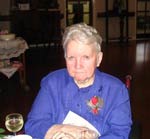 From: Elizabeth O'Keeffe RSM Congregational Secretary