Archived News Item
Mercy Justice Conference: what people are saying
December 1, 2009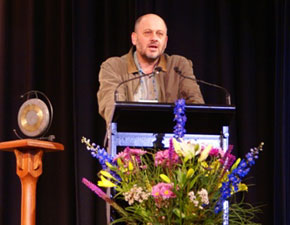 There have been continued discussions, reflections and action in the weeks since the Mercy Justice Conference. Some of these reflections are included in the following article. During the conference, Kerry Joyce, a delegate from the Exodus Community in Victoria, challenged all with her response to proceedings and invited us to ask ourselves: "I have only one voice, so how can I use it to stand up and make a difference for others". How will we respond to her question?
Kerry Joyce, Exodus Community, Victoria said: I'd like to take this opportunity to say thank you to all the speakers. Each speaker had their own experience of how justice has not worked for them and people around them in different ways. But they can still make a difference to what happens around them!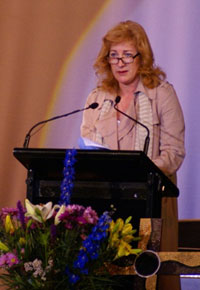 This encourages you to do the work you are doing. It also gives you ideas of how you can also work towards making a difference in people's lives.
I liked it when the speaker said: "we don't use labels here". It really touched me as everyone else put labels on things! What surprised me most was the numbers of people who are touched by the effects of climate change in our world. I think the message from "the couch" (panel issues affecting women), that we can still make a difference is very important, even knowing what things we might face when we stand up for others. It is just one of many challenges we face today.
Another question we can ask ourselves is: I have only one voice, so how can I use it to stand up and make a difference for others?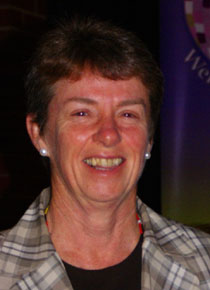 Mary Jane Lynch RSM said: The conference was very challenging and presented critical issues which we need to address. I greatly valued hearing the 'life-stories' from the keynote speakers and the delegates. It was quite overwhelming hearing so many stories and the extent of the issues faced by people. We need to hear the stories; we need to know what is happening so we can respond.
Kate Hewett, Victoria said: I was pleased Sister Maryanne Loughry RSM explicitly and publicly named our Catholic and Mercy Heritage in her presentation, as sometimes it seems we are so conscious of respecting others cultural and religious heritage we fail to name the valuable heritage which has given rise to our values.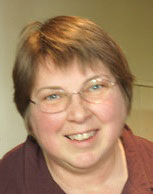 Julie Anne Ryan RSM said: I was really touched by Jan Gray's implied question of, who am I prepared 'take the roof off' for and to lay at the feet of Jesus, and in turn to offer at the feet of or bring to the attention of those who are in a position to influence change in our world. In deepening our understanding of Mercy and Justice, Jan spoke of the Gospel Healing story Luke 5:17-20.
Helen White RSM said: Jan Gray's visual images during her talk had a great impact. They were very moving.
Claudette Cusack RSM said: The success of the Conference for me will be in the ongoing connections for support and actions arising from the topics raised there either from the speakers or from the delegates. It was only possible to attend a couple of the discussion groups although many were of interest to me. I would very much like to find a way to harness the tremendous energy and goodwill of the group and for this to be communicated through various means including "Mercy M@tters".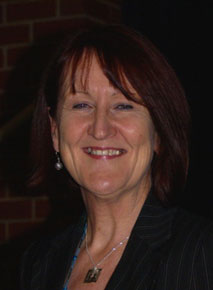 Mary Nichols Queensland said: "Embrace the Other… Welcome Difference". This statement provided a solid foundation for the Mercy Justice Conference, Canberra, November 2009. The speakers brought it to life in their presentations. When Madge McGuire started her presentation with "No one is poor at Catherine House", I knew I was meant to be there. I listened to Mick Dodson, a warrior for his people, our people. We heard that his fight for justice continues. I have joined this fight; learning and awareness have fuelled my action for change. The gatherings at the Open Space put words into action. I was in awe of the stories of women and men who have walked with people to find justice, peace and care. Among the Sisters of Mercy, I met many "Catherine" type people and heard about many "Baggot Street" places, all a living example of Christ in Action. Thank You.
We are thankful to the speakers and delegates for their generosity, great energy, engagement with one another and commitment to a more just world.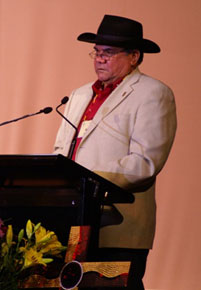 Professor Tim Flannery provided understandable insights into some of the most critical issues on our global agenda. Tim challenged us to keep a global perspective and while stating the present reality he was hopeful for the future.
As Professor Mick Dodson named the reality and the struggles of Indigenous people, the room became 'heavy'. The suffering of people could not be glossed over and we needed to hear the truth of the past and the present. What about tomorrow? Mick highlighted the protection of human rights for all peoples as being a critical aspect for future developments.
Delegates travelled an incredible journey as Margot O'Neill passionately spoke of Australians who were part of the asylum seeker movement in recent years and as she shared her insights from her research as a renowned journalist and author of Blind Conscience (2008).
The panel focusing on issues affecting women, Madge McGuire, Denise Coghlan RSM and Maryanne Loughry RSM, continued to challenge delegates as they presented personal insights from their work for justice at both local and global levels.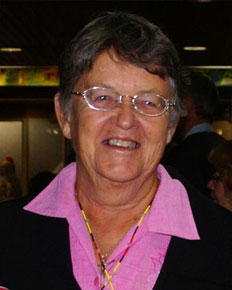 Jan Gray RSM called delegates to deeper reflection of the issues presented and discussed and, to consider the core values of the Mercy Justice Conference. The challenge is not only to raise the issues but to enable the most marginalised to be visible and their voice to be heard.
How do I now respond to the call to "Embrace the Other… Welcome Difference"? Will I respond, 'count me in'?
Contact: Carmel Heagerty RSM, Institute Justice Co-ordinator
Email: Institute.Justice@mercy.org.au