Mercy House of Welcome
For asylum seekers in Australia, participating in their new communities is not easy. On top of language issues, there are cultural attitudes and different ways of doing things. Even the little peculiarities of Australian life that most of us find endearing (a turn of phrase or funny "unwritten rules") can be challenging.
On Wednesday 9 April the Archbishop of Adelaide Philip Wilson DD JCL blessed the Mercy House of Welcome in Kilburn, a place for asylum seekers to come together and receive support. Established a few months ago, Mercy House of Welcome Alison Roach RSM, has seen the response grow. More than 170 people have attended with 6 new clients joining every fortnight. The main focus so far has been on English language lessons. Simply being able to communicate with people is a fundamental aspect of community participation that can easily be taken for granted. Not having that ability can result in isolation, depression and other social issues. The teachers are all qualified ESL (English as Second Language) teachers and volunteer their time for free. The classes also allow time for participants to ask questions about specific areas of life in Australia. Some want to know about the banking system, or how the school system works. Sometime they have heard a particular phrase they don't understand. There has been no shortage of volunteers or offers of practical support in the way of furniture or home appliances. With so many negative stories about asylum seekers in the media, it is heart-warming to see such a welcoming and supportive community response.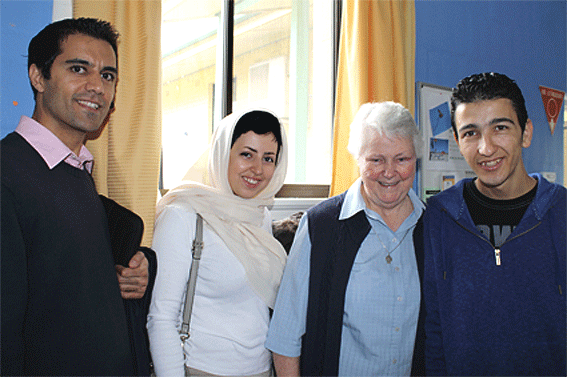 Photo: One of the volunteers with three of the clients.
For more information regarding Mercy Works go to http://mercyworks.org.au/
Messages to: Margaret Coulter – Development Officer