Archived News Item
Mercy Health LGBTIQ Employees Encouraged To Bring Their Whole Selves To Work
December 19, 2017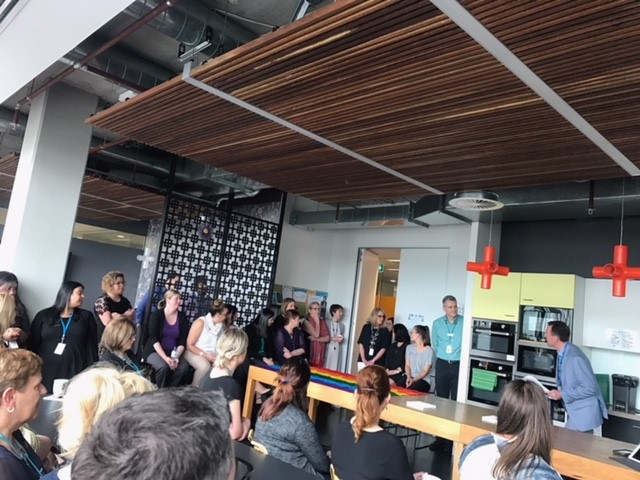 Mercy Health has launched a new network called 'Whole Self @ Mercy Health'. The network supports the organisation's commitment to equity and inclusion as it pertains to LGBTIQ employees.
Belief in the intrinsic dignity of the human person is the basis of all Catholic social teaching. Human life is sacred and the dignity of the human person is the starting point for an ethical vision of society. This principle is grounded in the idea that each person is made in the image and likeness of God.
A cross section of employees have, over several months, developed Whole Self @ Mercy Health which will provide valuable resources, networks and events for employees who identify as LGBTIQ (Lesbian, Gay, Bisexual, Transgender, Intersex and Questioning) and their supporters. An initial steering group has been established and its members are listed below. Adjunct Professor Linda Mellors is the group's executive sponsor, with the other members of the group being – Alicia Thomas Group Diversity & Inclusion Manager , Kerry Shearer Executive Officer to Group CEO, Jeff Brooks Clinical Advisor, Aged & Community Care , Clare Sullivan Legal Counsel, James Lye Group General Manager Marketing, Communications &Stakeholder Relations and Trudy Keur rsm Pastoral Care Manager, Werribee Mercy Hospital.
Whole Self @ Mercy Health aligns with our core values of Compassion, Hospitality, Respect, Innovation, Stewardship and Teamwork by promoting wellbeing, making people feel safe and recognising that each individual is unique.
Membership to Whole Self @ Mercy Health will be open to all employees, both those who identify as LGBTIQ and their supporters.
Adj Prof Stephen Cornelissen, Group Chief Executive at Mercy Health said that he was proud of Mercy Health for launching the new network.
"Whole Self @ Mercy Health is just another way of reaffirming our commitment to foster an equitable and inclusive workplace for all employees.
"Everyone deserves the right to feel safe and supported at work for who they are. While the network is currently focused on LGBTIQ communities, I am hopeful that similar networks will emerge for other groups that may feel marginalised in the workplace. Ultimately, it is Mercy Health's Catholic commitment to love and justice, and to supporting those in need, that provides the foundation for a healthy, happy and productive workplace. A wise Sister of Mercy once said to me "Where there is love, there is God"," he said.
Messages to: Kasey McCulloch, Mercy Health