Archived News Item
MERCY HAS MANY PATHWAYS
May 19, 2016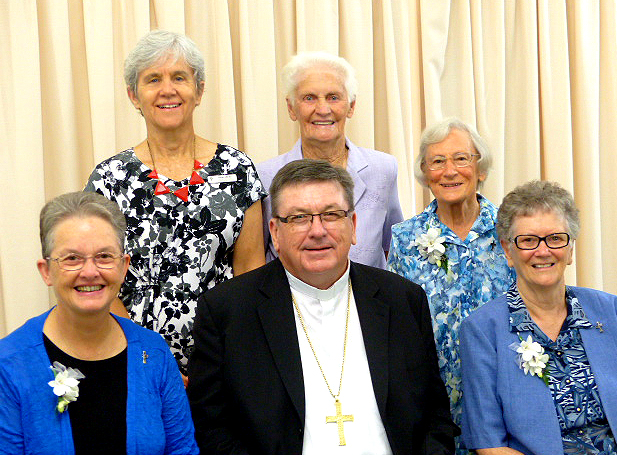 Family, friends and Sisters of Mercy gathered in Rockhampton on Saturday 30 April 2016 to celebrate the Profession Jubilee of four of the Sisters of the Institute of Sisters of Mercy of Australia and Papua New Guinea. Bishop Michael McCarthy and priests of the Diocese of Rockhampton concelebrated the Eucharist in Our Lady of Good Counsel Chapel, The Range. Later the Sisters and invited guests enjoyed a luncheon where further tributes honoured the Jubilarians.
The Diamond Jubilarians, professed on 21 January 1956, were Sisters Mary Wildie, M Justina Bedford and M Baptist Matheson while the Golden Jubilarian, professed on 24 August 1966, was Sr Berneice Loch, currently the Leader of Institute of the Sisters of Mercy of Australia and Papua New Guinea. A brief recounting of each of the Sisters years in Religious Life provides a snapshot of the scope of Mercy Ministry over many, many years.
Sr Mary Wildie
was born in Mackay and chose to be a nurse, obtaining both General and Midwifery certificates before heeding the call to enter the Sisters of Mercy in 1952. Mary had dreams of being a missionary and this dream was realised when in 1958, (then known as Sr M Felix), Mary was a member of the first inter-congregational Mercy group who went to Torembi, PNG. After working in both Torembi and Yangoru for ten years, Mary returned to the Diocese to continue her nursing ministry in local health and aged care facilities. In retirement, Mary commits herself to visitation of the sick and aged and enjoys playing cards, gardening, reading, films and music and continues to experience with joy all that life has to offer.
Sr M Justina Bedford was born in Dublin (Ireland), living in the vicinity of Pheonix Park, described by Justina as 'my back yard'. Entering the Sisters of Mercy in Rockhampton in 1952 with Mary Wildie, Justina ministered as a nurse for a short period, then as a primary teacher in many diocesan schools as well as St Thomas' School, Yangoru PNG. Justina then assisted the late Sr M Patrice Kennedy with Mercycare, a local ministry outreach to homeless men, the hearing impaired and those suffering the effects of substance abuse. From her Irish culture, Justina has inherited a love for reading books and poetry. In her vocation as a Sister of Mercy, Justina believes that she is called to reflect the face of Christ to those she meets each day.
Sr M Baptist Matheson
was born at Dixalea, a rural community near Wowan, west of Rockhampton. Later the family settled in Biloela where Baptist spent her early life. As a young adult, while working on the telephone exchange, she loved ballroom dancing and tennis, two activities she missed very much when she entered the Sisters of Mercy in 1953. Baptist initially taught primary school children in many centres as well as teaching music after school. Later moving to the Mater Hospital (Mackay), Baptist provided pastoral care and spiritual support to elderly patients. Now living in Biloela, Baptist continues to minister people in a similar way and is also a volunteer at 'St Vinnie's', a work that is a constant source of satisfaction and fulfilment for her.
Sr Berneice Loch
, though born in Rockhampton, grew up on a cattle property, 'Locharbor', near Emerald (Central Queensland) where she and her two brothers were home-schooled by their mother. Berneice came to know the Rockhampton Sisters of Mercy as a secondary school boarder at the Range College. While working in the Emerald branch of the Commonwealth Bank, Berneice enjoyed a busy social life before entering the Sisters of Mercy in 1964. As well as teacher training, Berneice's tertiary education includes degrees in Science, Arts, Religious Education and a Masters in Ministry. A significant part of Berneice's ministry has been administration within schools and within the Sisters of Mercy, envisioning our reconfigured Mercy world and the future of our ministries. As an innovative educator, Berneice implemented structures and programs for the education of young indigenous students. Berneice is particularly passionate about the call to 'ecological conversion' and considers herself very fortunate to live in such intensely interesting times.

We offer a sincere and heartfelt 'Congratulations' to each of these Sisters whose gifts have enriched the lives of many people in our Diocese and beyond, in the places where they have witnessed to Gospel values and a Mercy way of life.
Messages to: Joanne Molloy RSM