Archived News Item
MERCY FROM A YOUNG PERSPECTIVE
April 18, 2016
Recently, Year 7 Students from Ursula Frayne Catholic College Perth set off on a Year of Mercy Jubilee Retreat.

One class group arrived each day at St Mary's Cathedral and settled into the rooms in the underground crypt area.

A creative work book awaited them with an invitation to a time of storying around two key themes: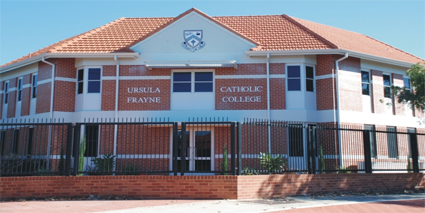 "Jesus is the Face of Mercy"
(Pope Francis)
·

"……being large hearted Mercy…."
(Archbishop of Perth, Timothy Costelloe)
They also had much to celebrate, as in conjunction with the call of the Pope to celebrate the Year of Mercy, it is also the 170th Anniversary of the arrival of their College namesake Sister Ursula Frayne and her companions to Australia in 1846 as well as the 200th anniversary of her birth.
They shared their favourite "Jesus Mercy" stories, posting key words around the windows. They sang and danced Mercy Songs and created collages of the messages they heard in them.

This also included sharing how they lived these in their daily lives. They remembered the challenge put before them in the beginning of the year by the Archbishop to be large hearted in their Mercy life.
They undertook a Pilgrimage Walk which took them to the first Convent built by the Sisters in 1848 where they read and talked about the seven brave pioneer women who travelled with Ursula. They prayed at the Grave of the early Sisters and on returning to the Cathedral walked through the Mercy Jubilee Door to celebrate the Eucharist.
The experience continued after the conclusion of the day as can be seen by some of the Tweets:
Thanks@Sister Joan for having our #Year7UFCC at St Mary's Cathedral.

So much learnt in one day!..
William J
·

On Monday we went to St Mary's Cathedral.

Really enjoyed the Mercy project because we got to choose pictures and paste them to match the words from the Circle of Mercy Song…
Bristal S
·

Hey guys…just went to St Mary's Cathedral and Oh was it amazing!

Now learnt that I'm "the new face of mercy" and I'm going to do my very best to spread it.

Come at me world…
Alana C
·

We went to St Mary's Cathedral and learnt a lot of things about Mother Ursula Frayne and the Mercy Sisters…
Alicia N
Another Year 7 student was asked to write about an inspirational person in the same week she had attended the retreat. Here are her words.
"Ursula Frayne was not your average person.

When she was a young adult of sixteen years things in the religious business started to get serious for her.

She teamed up with a group of women and together they joined a group you now know as the Sisters of Mercy.

This group, led by Ursula, was asked to travel halfway across the world to help set up the first Catholic School in Western Australia.

They were promised over 4,000 willing students that they were to teach when they arrived in W.A. but on the first day of school one single child came. It's not like being at home was any more easy, as when they arrived at the place they were finally going to call home, their new convent, it turned out that the builder had forgotten to build a staircase up to the second floor!

But they still stayed strong and prayed to God when times became tough.

They even had a glass door put in their convent so that they could look through it into the church and be part of the Mass from their home. So though times were tough the Sisters of Mercy, led by Ursula, powered through to their honoured place in many young and old Australian hearts.

The pioneer Sisters are buried in the grounds of Mercedes College in the city, across from St Mary's Cathedral.

Ursula made it to Victoria to start another school there and is buried in Fitzroy."

[1]

[Clare Jelaca, MRIC]
And so the story of Mercy both universal and of Catherine, continues.
[1] References: Letters from 3 Novices to Community in Baggot St (1849): "Sketches" by Mother Ursula Frayne. "Valiant Women" Letters of Foundation Sisters 1845 – 1849 compiled by Geraldine Byrne.