Archived News Item
Mercy Endeavour event in support of refugees
August 31, 2006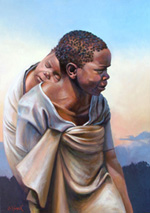 Mercy Endeavour Australia's annual Mercy Day Brunch will be held on Sunday September 10 at the Hilton Hotel in Sydney between 11:00 am and 2:00 pm.
Guest speakers for this year's event are Sister Margaret Roni RSM, from Papua New Guinea and Mrs Margery Jackman, Principal of Catherine McAuley, Westmead.
A raffle will be held during the brunch. First prize is an oil painting entitled "Hope" by Kiama artist Suzanne Warwick (pictured).
Mercy Endeavour Australia had its beginnings in 1989 when a small group of former Mercy students gathered to assist refugees. "Our concern was and has remained for refugees", explains Mercy Endeavour member Mrs Noela Kelman.
"Our motto is "˜to reach out and give hope' and we try to provide prayerful and financial support for the Mercy Refugee Service."
For further details about Mercy Endeavour or to make a booking for the brunch, please contact Mrs Noela Kelman on (02) 9481 9650 or email: nkelman@hotkey.net.au