Archived News Item
Mercy Education Welcomes New Principal
September 22, 2014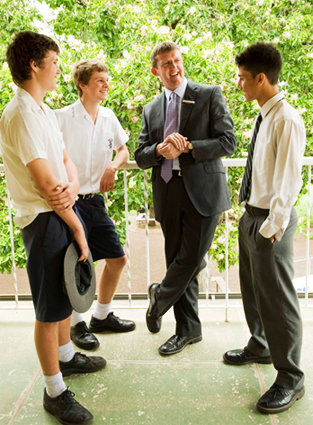 Mercy Education extends a warm welcome to Brian Turner, newly appointed Principal of Catholic College Bendigo who takes up his position at the College on 6 October 2014. Brian reflects on his journey in Catholic Education and pays tribute to some of those who have shaped and influenced his beliefs and leadership style.
One of the greatest challenges when moving to a new school and charism in any leadership capacity, is the internal tension that sometimes prevails as one tries to imagine how that praxis presents itself within the context of the charism in that particular setting. How would I know that the praxis of the school resonates with the charism? The comforting aspect of my move to Catholic College Bendigo is that I am returning to a Mercy College. This will be my third Mercy experience.
My first teaching appointment was at a small town called Noorat in Western Victoria, a campus of Catholic Regional College, Camperdown. Sr M De Chantel was the Campus Coordinator and a wonderful mentor. I still fondly remember her advice, twenty three years later. If you are going to be successful in teaching, and life, you must learn as much as you can about the community you serve, and develop strong relationships with the students and their families. You only gain respect through service and being sensitive to each families' context. Through time, I have come to realize the wisdom in this advice and now appreciate that this notion of service and stewardship is prime in any dimension.
When I moved to Notre Dame College, at Shepparton in the Goulburn Valley, as a Deputy Principal under the mentorship and leadership of Peter White, once again I had a similar experience. We were challenged to respond to a local need for young people, who were expelled from local schools and had no educational options. I remember Peter asking me "what I was going to do about it?" This was the catalyst for the McAuley-Champagnat Program. The future of the program was entirely dependent on forging trust and outreach to those most in need. It was about courage and trust in Providence. Sr Rose Griffen was on the staff at Notre Dame College at the time and was a great supporter of, and involved in establishing the mission, of the program. The Mercy values of compassion, justice, service, respect and hospitality were at the forefront of the program's rhetoric and more importantly its praxis.
Over the past seven years, I have been the Principal of a Dominican Boys, ELC-12 School in Prospect, Adelaide. The school has over 1050 students enrolled, which includes over 50 nationalities, 18 religious groups, predominantly EAL background with a quarter of the students supported by the South Australian Government Student Card facility. The diversity of the school is amazing, as is the demeanour and compassion of the students. The challenge has been to support the students and to appreciate and regard their context so that they grow in self-esteem and succeed, not only academically, but socially. The results are outstanding and the school should be very proud of its record. On reflection, the mission of Blackfriars has many similarities to Catherine McAuley, relating to service and community.
My next challenge will be returning to a familiar Diocese; to Bendigo, and to our family and friends. Catholic College Bendigo has a wonderful reputation, and as Principal and a parent, I look forward to being part of the School's journey, as the Mercy identity further evolves within the new context of governance. No doubt, the resolve and legacy of Catherine McAuley will emerge once again, and be evident in responding to the local and global community.
Messages to Eugene Lynch (for Brian Turner)