Archived News Item
Mercy Colleges Add Extra Dimension To Liturgical Celebrations
May 26, 2020
Liturgical celebrations are an important part of the life of Mercy Colleges. They take on an extra special dimension when key symbols are created by members of the College community, as is the case with St Joseph's College Mildura and Santa Maria College, Attadale. 

St Joseph's College, Mildura, Victoria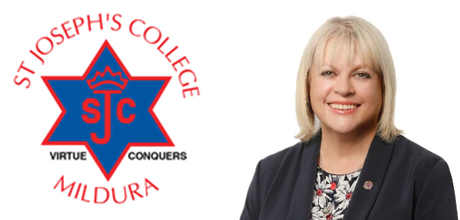 St Joseph's College Mildura commemorated the feast of their patron saint on May 1 with a small feast day liturgy that was celebrated by Fr James Kerr with six students from the college.  The liturgy was filmed so that all students and staff could celebrate.
Marg Blythman (above) Principal said St Joseph is as an excellent role model for family values, personal integrity and Mercy Values.
"Mr Clive Morgan, a grandfather of current students, made 12 new Communion bowls out of local jacaranda wood for the College. The Communion bowls were presented to the College at the Feast Day Liturgy.
"The significance of the Communion bowls is that they have been carved by a father, just as St Joseph would have made timber goods when working as a carpenter. Local jacaranda wood was used to signify the jacaranda trees that are found within the college grounds," Marg said.
Marg said during the liturgy, Fr James prayed over the Communion bowls and St Joseph the Worker Prayer Cards. The College looks forward to using the Communion bowls at the next College Mass, with the Prayer cards to be given to staff and students when all return to the College later in the Term.
Santa Maria College, Attadale, Western Australia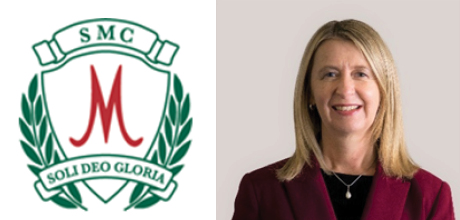 Jen Oaten (above) Principal at Santa Maria College, Attadale has recently commissioned their new Altar Cloths that were designed by a member of staff.
"The College celebrates many different liturgical events each year, and during this time of isolation, and with church services only being held online, Mission Leader, Jilly Landers felt it was a great time to have some new altar cloths created.
"We needed to find someone who could design and create the altar cloths suitable for these occasions and our wonderful Religious Education and Home Economics teacher, Andrea Dopson, eagerly took on the labour of love," Jen said.
"What started off as the commissioning of one altar cloth, has now turned into four beautiful designs, which will be on display at our various masses and liturgies. The altar cloths have been beautifully designed to reflect the College values, College Houses, our commitment to working for reconciliation with the First People, and our obligation to be people of Mercy.
"Andrea's creative designs are a reflection of her talent. The creation of these altar cloths involved lots of discussions and planning before the vision became a reality. Andrea undertook the mission with love and enthusiasm which can clearly be seen in the four delightfully produced altar cloths, " said a very grateful Jen on behalf of the Santa Maria community.
Click here to return to Just Mercy
Both Colleges are part of Mercy Education Limited. To find out more – www.mercy.edu.au