Archived News Item
Mercy Day In A Time Of Pandemic
October 6, 2020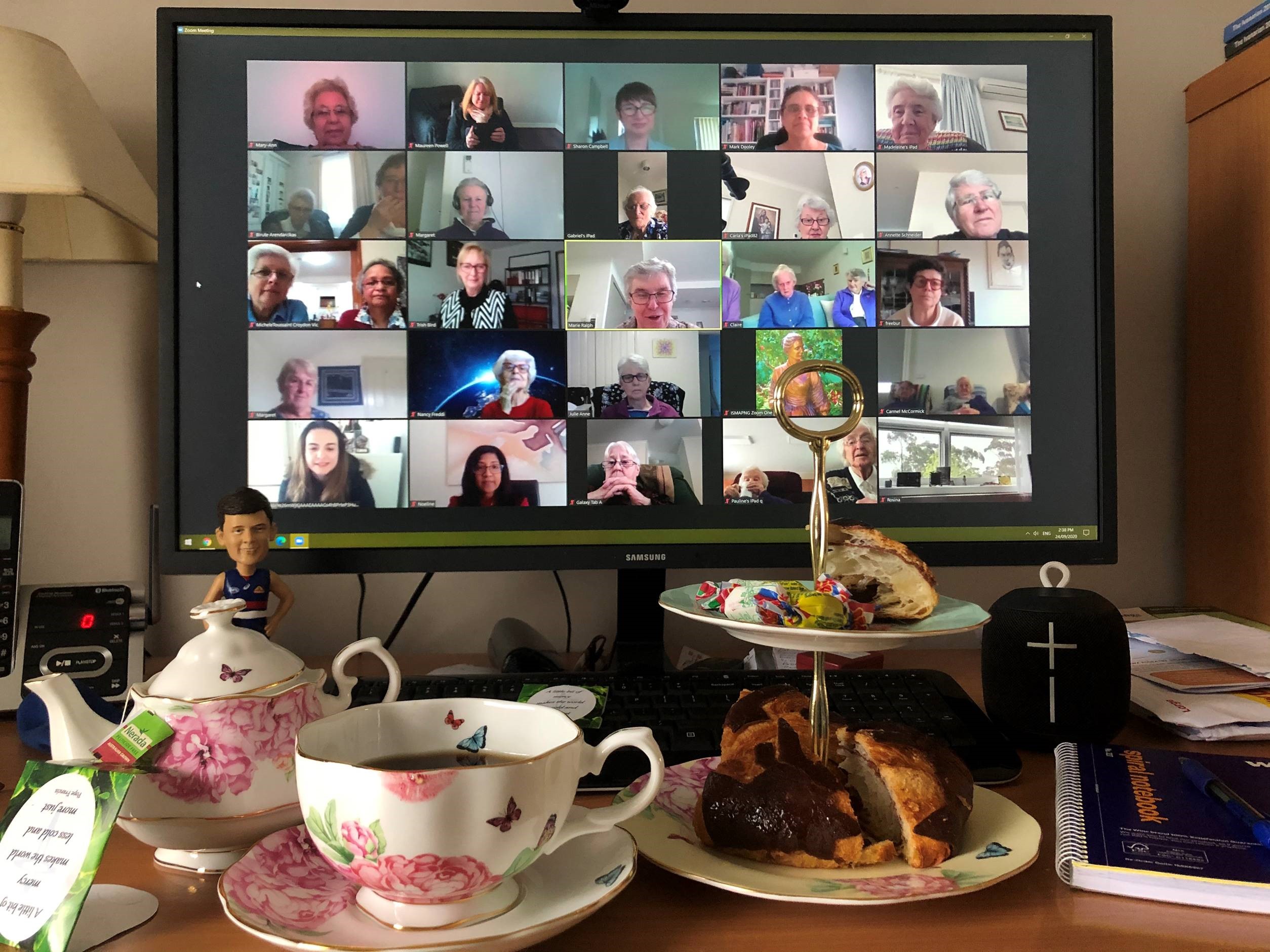 Mercy Day 2020 will forever in history be associated with COVID-19. While we all hope and pray future Mercy Days will not be impacted by this pandemic, we can at least feel proud of the way in which, despite the circumstances we faced, we more than made the most of it! 
Sisters and staff gathered on Mercy Day at 10am AEST, that included a wonderful reflection prepared by Mary Wickham RSM.
As part of the reflection, Sr Mary drew inspiration from the artistic depiction of Mary wearing her cloak of Mercy with figures gathered in under the canopy formed by her cloak.
"Such images were found at shrines dedicated to safety and gratitude from survival from The Plague.
"As we are in the midst of our own pandemic… it is appropriate for us to reflect on what meanings the metaphor of the cloak of mercy holds for us today", Sr Mary said.
Institute Leader, Eveline Crotty RSM reminded those in attendance, that while this year's Mercy Day falling in the midst of a Pandemic is unique for us, in the history of Mercy Days it is probably not that remarkable.
"Since the House of Mercy in Dublin was established in 1827, there have been plagues, World Wars and natural disasters all of which have occurred either on or during Mercy Day.
"I hope we can all draw solace from the knowledge that there is nothing in our current experience that those who have gone before us, and on whose shoulder we stand, have also experienced. Their ability to see the glimmers of light in the darkness and overcome the challenges they faced, provides us with hope and optimism that we too will be able to do the same," she said.
Click on the arrow below to watch a recording of the Institute's Mercy Day celebration. 
In addition to the Institute celebration, local communities, offices and ministries had their own celebrations. Some were lucky to have face-to-face celebrations, while others used their creativity to create memorable celebrations on Zoom.  We are pleased to feature below some of the memorable moments of these celebrations.
Mt Hagen, Papua New Guinea
Click here to read the full story.
Adelaide, SA
Bathurst, NSW
Albury, NSW
Sans Souci, NSW
Canberra, ACT
Ballarat, Vic
Bendigo, Vic
Perth, WA
Alphington, Vic
Institute Centre Stanmore, NSW
Mercy Place Keon Park, Reservoir, Vic
Mercy Services, Newcastle and Singleton, NSW
Mercedes College, Perth, WA
All photos received at time of publication have been included above. If you would like your Mercy Day photo added to this page, please send your image with caption to the Communications Team 
Click here to return to Just Mercy