Archived News Item
Mercy Book Gives Children a Voice
September 28, 2017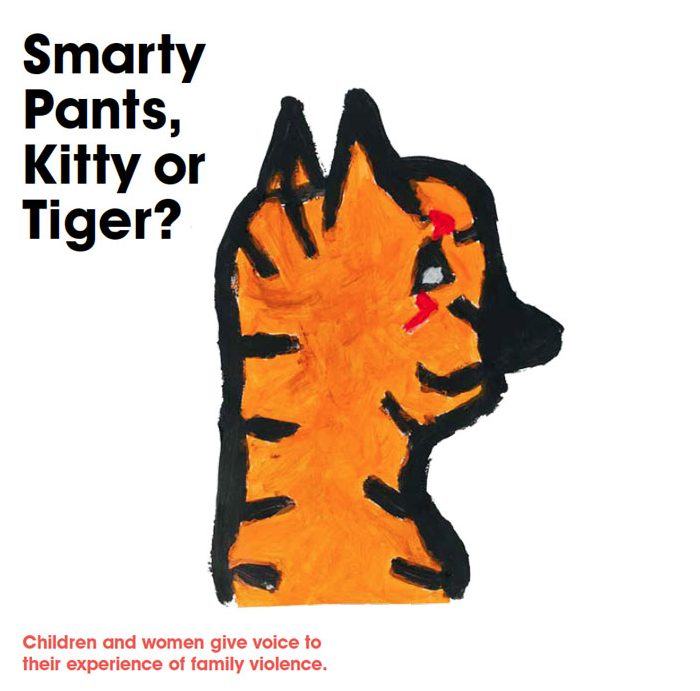 'Smarty Pants, Kitty or Tiger?' is a book of stories and artwork by women and children who have stayed at McAuley Community for Services for Women's 'McAuley Care'. The book will be launched on October 25, at the State Library of Victoria by Liana Buchanan (Victorian Commissioner for Children and Young People).
Coordinated by Nicole Rotaru rsm, this powerful and moving collection of drawings and narratives gives a voice to children and women who have been traumatised by violence in the home.
Sr Nicole has a background in education, social work and creative arts therapy, and has previously produced two other publications related to children's experiences.
The book is grounded in a creative arts based approach. A workshop describing the 'Creative Arts Project' was facilitated by Sr Nicole to prepare staff. It also discussed about how best to refer women and children into the Project.
The Case Workers who took the role of initiating a conversation about the 'Creative Arts Project' spoke with the women. They found that the women often wished their children also to be involved.
"This project was an opportunity for the women and children to give voice to their experiences in a safe setting," says Sr Nicole. "Expression through art and storytelling is a proven step forward as part of the recovery process for those who have experienced trauma."
"While the book 'red flags' family violence, family violence was never spoken about with any of the children during the art sessions.
"I was simply known as the art lady," says Sr Nicole. "I would sit with the children while they painted, drew or set up their sand trays; and after this the children would want to share the story of their art project with me. I would simply listen and take notes and then sometime later bring back a photocopy of their artwork and their story for the child and their mother to keep."
Studies have shown that what children do in their play externalizes what is inside of them.  Sr Nicole uses 'bear and strength cards' to assist in the expression of the children's artwork and they are able to incorporate them into their work if they wish.
"I will sometimes say to a child, 'is there a bear card that goes in your sand tray?' and this will help them to externalize their feelings in a very safe and secure way."
"They often use the bear cards to show what they have heard or said, but it is safe for them because the bear is saying, hearing or seeing something, not them."
Once launched, the book will be used as a tool to further the advocacy work in family violence and its impact on children.
In 2018, Sr Nicole will begin a series of workshops based grounded in the findings of 'Smarty Pants, Kitty or Tiger?'. The first workshop is called "Seeing" the voice of the child and will help workers working with children to identify the 'red flags' of possible family violence and increase their capacity to take appropriate action within workplace policy and guidelines re mandatory reporting.
"The workshops give adults who work with children the tools to identify these markers and then take the next steps to act in accordance with Department of Health and Human Services protocol which has been revised as a result of the recent Royal Commission into Family Violence, Victoria."
"This work is something that Catherine McAuley would have done. Women and children were her focus," says Sr Nicole. 'As Mercies we continue her legacy. We are not done yet!"
Any proceeds from sales of the book will go towards McAuley Community Services for Women's 24/7 refuge children's program, the only one of its kind in Victoria.
'Smarty Pants, Kitty or Tiger?' has been funded through the Campbell Edwards Trust, Mercy Foundation and the Institute of the Sisters of Mercy of Australia and Papua New Guinea.
For information on the 2018 workshops and how you or your ministry can get involved contact: Nicole Rotaru rsm