Archived News Item
Mercy at Work in a Rural Setting
September 19, 2013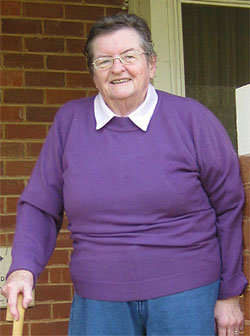 After fifty-two years of what seems like a "very chequered career" as a Sister of Mercy, in outback and city schools, with street kids, refugees and in mercy administration, I now find myself in semi-retirement in Trundle which is in the middle of NSW, 63kms from Parkes.
I became aware that the parish of Trundle/Tullamore /Fifield/Bogan Gate was priestless and had been added to the nearby parish of Condobolin, with only one priest. I decided to write to the acting bishop of Wilcannia-Forbes Diocese and offer to come to the parish as a pastoral presence. The bishop and the parish priest agreed I arrived in Trundle on the 5th of February, 2012 and took up residence in the vacant presbytery. Trundle, now home to the ABBA festival, has a population of 390 people and was once home to Eileen Quade RSM and Carmel Quade RSM. It is a farming community just recovering after many years of drought. It has a small but vibrant Catholic school, St Patrick's, which has a proud Mercy tradition. In the absence of the priest, people run communion services and attend to other aspects of church life. My role is pastoral care in this very friendly and ecumenical setting.
My ministry is mainly to the elderly and the dying. I visit the hospital and the hostel situated within the Trundle hospital, and the units for the elderly next to it, as well as people in the town. Each week I attend the local seniors' days in both Trundle and Tullamore. I am in Tullamore every Wednesday and every second Sunday. I have joined the local branch of the Red Cross as I was seconded to them (Red Crescent) when I was in the refugee camp in Malaysia. It is very rewarding to be a Mercy presence in this small part of the world. For me, there is also close communication with the Sisters in Parkes, and that is an added blessing for me.
Messages to Pat Lynch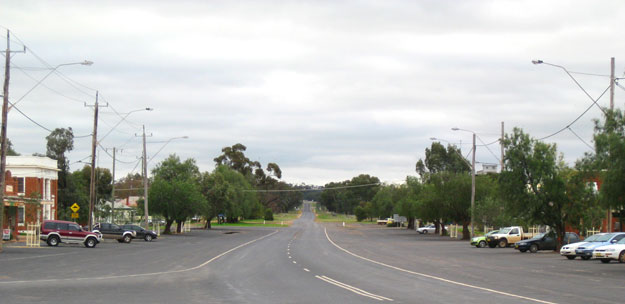 Photo: Main Street, Trundle