Archived News Item
MERCY ASSOCIATES FUTURE UNFOLDING
April 14, 2016
Over the last twelve months the Mercy Associates Implementation Committee has been working steadily on fine-tuning the Vision Statement and Framework that underwent a major consultation process during 2014 with the aim of having this implemented over coming years. The task is an important one, with the hope that Mercy Associates groups operating now will receive additional support and encouragement to continue their work, and that new groups, possibly based in Mercy workplaces and elsewhere, may form in the future.
The tasks the committee has worked on include:
• Finalising the wording of the Vision Statement and Framework for Mercy Associates
• Developing a logo and motto for the use of Mercy Associates groups, including for badges
• Developing a handbook that will increase the unity of Mercy Associates groups and support the efforts of those starting new groups
• Planning the implementation of various steps in the process.
The committee comprises Pat Bourke (Goulburn); Christine Convery (Neath); Terry Power (Cairns); Sharon Gillett (Geelong); Catherine Smith (Melbourne); Margaret McDonald (Ballarat); Joan Neal (Townsville); Kerry Shearer (Melbourne); Carmel Ross (Bindoon); and Sally Bradley RSM; with Margaret Endicott RSM facilitating most of the committee's meetings.
A second committee is working on the very important matter of formation. The Mercy Associates Formation Committee includes Sheena Barber (Launceston); Bernard Dobson (Safety Beach); Les Stewart (Ballarat); Terry Power (Cairns); and Carmel Ross (Bindoon). This group's first task is to develop a formation resource for use with women and men who express a desire to become a Mercy Associate. This will be a core resource, because of how important it is that those keen to become a Mercy Associate become familiar with the Catherine McAuley, the Sisters of Mercy and the focus on living the charism of Mercy in everyday life. In time, other resources will be prepared for use by Mercy Associates groups at their meetings to support their ongoing formation, and a database of printed and online resources will also be developed.
Both committees will finalise their work by the end of 2016, and then hand on the baton to those who will undertake the implementation of the new framework, including supporting new groups forming. ISMAPNG's commitment to Mercy Associates has been a great source of encouragement to both committees. Institute Leader Berneice Loch RSM has described it thus: "The Institute takes this movement very seriously as a way in which God's message of Mercy is passed on and realised through those who feel drawn to the message and impelled to live their lives in such a way that Mercy is experienced by others around them. … Side-by-side the two can offer mutual support and practical assistance as we both work to make God's Mercy known in our world."
Messages to Carmel Ross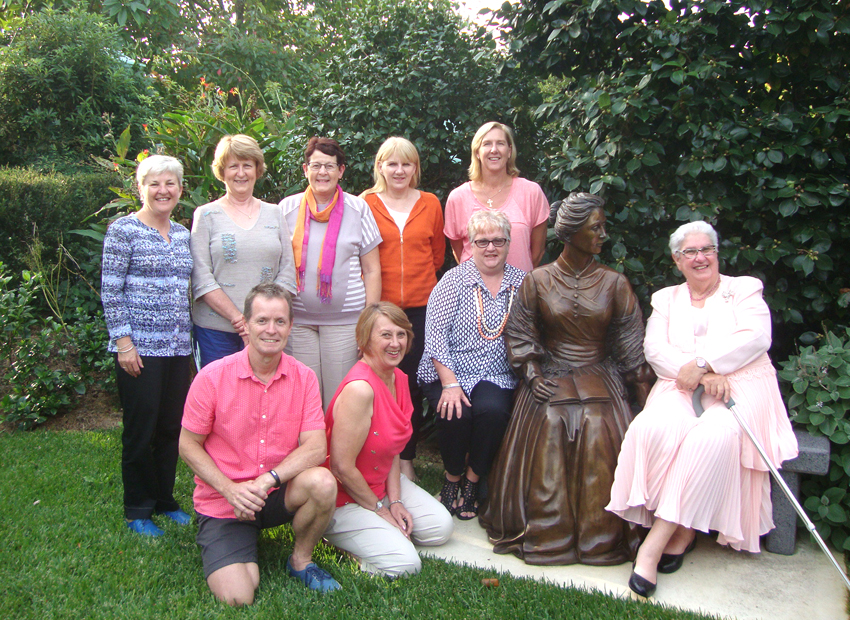 Photo: Mercy Associates Implementation Committee members. Back row: Sally Bradley RSM, Carmel Ross, Christine Convery, Catherine Smith, Sharon Gillett. Front row: Terry Power, Margaret McDonald, Joan Neal, Pat Bourke. Absent: Kerry Shearer.