Archived News Item
Mercy appointed Professor of Religious Education
October 29, 2006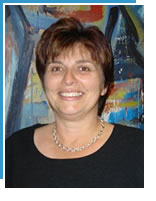 Congratulations to Dr Peta Goldburg, a Sister of Mercy of the Brisbane Congregation, on her appointment as Professor of Religious Education within the Faculty of Education, Australian Catholic University. Peta is located at McAuley at Banyo campus in Brisbane.
Her success is a tribute to her dedication, enthusiasm, resourcefulness and sheer hard work over many years. We are all very proud of her and happy that she has achieved this honour.
In announcing her appointment the Vice-Chancellor of ACU, Professor Peter Sheehan AO, said: "Dr Goldburg has a PhD from the University of Newcastle, a Masters of Arts (Studies in Theology) from the University of Queensland, and a Masters of Religious Education from Australian Catholic University. Peta received a Carrick citation in 2006 "For engaging and motivating pre-service and in-service religious teachers through the Critical Engaging Creative Arts Approach," is the current National president of the Australian Association of Religious Education, and an elected Member of our Senate. She has published books, book chapters and journal articles across a range of topics relevant to the field, and is on the editorial boards of an international journal and two national journals.
Peta is Head of our national School of Religious Education within the Faculty of Education and she is a skilled Religious educator, who brings innovative approaches to teaching as a leader in the field of Religious Education in Australia and beyond. She is Fellow of the Australian College of Educators (FACE) and has served as Head of the School of Religious Education since 2003. She is also a person who is deeply committed to the evangelising mission of the Church."
Messages to Elizabeth O'Keeffe rsm Congregation Secretary