Archived News Item
Mercy Aboriginal Partnership Animation (MAPA) Project
April 26, 2007
"Partnerships with Aboriginal people" and "the connections that have grown among Sisters of Mercy involved in the NSW Mercy Aboriginal Partnership Animation (MAPA) project" – these were the key issues named for further action when a group of NSW Mercy Sisters and Aboriginal women gathered last weekend (April 21-22) at the Edmund Rice Centre in Mulgoa (western Sydney). Sister Marie Butcher (Parramatta) reports.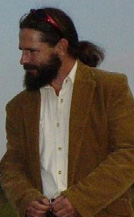 On Friday afternoon (April 20) we gathered to connect with the land and to hear the story of Winbourne where we were staying. We were joined by Chris Tobin (pictured right), an Aboriginal man from the local Darug people. He informed us of his story then together we walked the land. We connected with the kangaroos and saw evidence of Aboriginal presence after gallantry climbing over a barbed wire fence… or for a few of us under it. After dinner we connected with our (Mercy) story so far through photos taken over (recent) years.

Saturday morning Jill Finnane, from the Edmund Rice Centre at Croydon, facilitated the session titled "The World Caf锝 workshop. Following the concept of a meeting for coffee at a café we met at four tables with a host who facilitated the discussion. After visiting four cafés and discussing the issue belonging to each, key questions were raised.

After morning tea, Louise Campbell led us in an exercise to deepen our understanding of the Aboriginal culture (and the impact of being disconnected from it). Then after dinner we continued with the issues raised by the morning discussion. We broke into groups around these issues and planned strategies for moving us forward (on the continuing journey).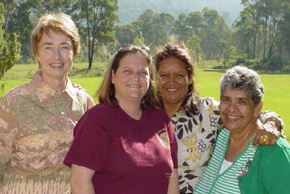 For those who attended we feel that in our journey with MAPA (Mercy Aboriginal Partnership Animation) we have broken the boundaries of congregations as we have met as a connected group that has grown together around a particular issue. Also that we are working in partnership with the Aboriginal women who have said "yes" to be with us.
We are thankful to the congregational leaders who initiated this project and the wealth of learning that has taken place and we are looking forward to continuing as we feel this is a "˜living organism' that develops through our connections and the time we have together to reflect and plan.

The network is open to any interested person. If you would like to be on the Aboriginal network email system please email me your email address and you will be included.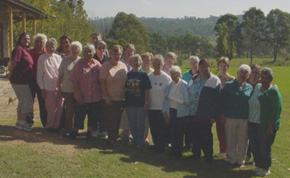 From: Sister Marie Butcher RSM (Local Communication Facilitator, Parramatta)
Email: mbutcher@mercy.org.au