Archived News Item
Mercedes College welcomes back class of "˜68
November 26, 2008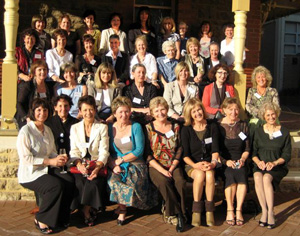 Thirty ex-students and four former staff members of Mercedes College in Perth gathered for their 40-year reunion on November 12. Mercedes College Community Relations Officer, Lyn Barker, reports on the event.
A 40-year reunion is a big event. Thirty women from the class of '68 gathered on Wednesday November 12 in Catherine's Garden. Many were seeing each other for the first time in all those years. Head girl, Jennifer Stratton, was there, as was Mercedes Principal, Sheena Barber (Wilson) and three women who flew in from Sydney. Four former teachers came: Sister Anna Maria O'Shea (Sister Gregory), Sister Joy Ryan (Sister Juliana), Sister Anne Tormey (Sister James) and Sister Claude McNamara.
Helpers included Mercedes Community Relations Officer, Lyn Barker (Schwann) and Adrienne Marshall (Feldman) both from the class of '69.
The night flew past, full of talk and laughter and checking out photos from school days. The women were so happy to meet and hoped it was the rekindling of their friendships and links to Mercedes. Many have since contacted the college to say how much the enjoyed the evening and expressed their joy at renewing friendships and wanting to keep in touch. To this end, one ex student, Marianne, is hoping to host a picnic in the grounds of her home in the Swan Valley.
The sixties were exciting times; women were entering university and the professions in larger numbers. There was a feeling of hope for a better future. Many girls married young in those days, and many pursued careers, often whilst they raised children. Talking to these women from the Class of '68, it was obvious that they have made an important contribution to their families, communities and careers. They are interesting women, open, honest and thankful for the opportunities given to them by a Mercedes education, with the Sisters of Mercy.
Many of the class of '68 wrote of their enjoyment of the reunion and some of their comments follow.
"It was fantastic to see the girls, many of whom I haven't seen since school. Thank you and your helpers for such a terrific reunion. I know it takes a lot of effort to organise everyone. Once again a great night, thank you." Diane
"Thank you for a most enjoyable 40-year school reunion. It was so lovely to see everyone again and especially good of our former teaching sisters to come along. I am fortunate in that I have three of those girls in that group who are still special friends. I gained so much from Mercedes, especially my love of music, and am now a music teacher! Thank you Sister Calista (Maureen)." Jennie

"Thank you for arranging the reunion on Wednesday. I was a bit dubious initially but found the experience interesting and enjoyable. And I think we all felt a bit the same. It was surprising how recognisable people were, especially after a chat and a smile. And I am pleased you invited the teachers too." Trish
"I wish to thank you for organising the reunion of class of '68 on Wednesday evening. You did a wonderful job with us all and made us feel very welcome. It was so great to catch up after all these years with the girls (and the Sisters) that we had so much fun with back in the sixties." Helen

"Thanks for all the hard work in putting together yesterday's reunion for the Class of '68. It was a wonderful opportunity to reconnect with long-lost classmates and so nice to see where people's lives have taken them over the years. (I still can't believe it's 40 years – we're not that old!) Marianne mentioned she might arrange a picnic at her home in the near future so we can see each other again soon. That would be a lovely follow up. If it does happen, I hope to see you there again. In the meantime keep in touch." Veronica
Sister Claude wrote of the presence of the Mercy Spirit, high praise indeed.
"Thank you very much for inviting me to the ex-students celebrations last week. It was really a great evening, and brought back many memories – beautiful ones – of the girls 40 years ago. I am sure everyone enjoyed catching up with old friends as much as I did. You certainly worked hard to organise such a successful gathering. Keep up your enthusiasm for Mercedes College and its teachers and students. I am sure Sheena will be a great leader and principal, and will continue the Mercy Spirit that I felt was still evident in the ex-students who gathered for the reunion. May God continue to bless you." Sister Claude
Even girls who could not attend, enjoyed the news and photos.
"It was an excellent job of getting all these people together. Kerry took photos of the grounds of Mercedes and sent them to me on Facebook. What a gorgeous place it is. I had forgotten how historic it is – or took it for granted I suppose while I was there. Some of the old buildings looking up from the Catherine's Garden have replicas in church building here in Brisbane. It must have been typical of the time. Wish I'd been there!!" Denise
From: Lyn Barker, Community Relations Officer, Mercedes College Perth