Archived News Item
Memories of St Joseph's Mount, Bathurst
December 17, 2009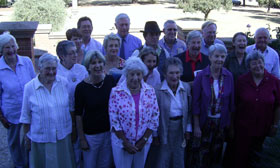 Bathurst sisters and their friends gathered on Saturday December 12 to celebrate the centenary of the gifting of St Joseph's Mount to the Sisters of Mercy. Patricia Powell RSM (Bathurst) reflects on some of the changes that have occurred in that time and remembers those women – both religious and lay – who have "shared the sacred space" of the house at St Joseph's Mount.
When I think of the "Sacred Space" of the house at St Joseph's Mount, I immediately think of novices. Then, come to mind, the various professed sisters who lived there, to either form the novices in religious life, train them to be teachers or see to their being fed etc. And of course, this includes the mother generals, provincials and congregational leaders.
However, on a little reflection, it occurred to me that over the years, other women, not members of our congregation, entered that "Sacred Space" to assist us indirectly in our mission. My memory, which is not very reliable, only goes back to 1953. At that time we were self-sufficient. There were plenty of sisters to cook and clean. But over time that changed. I am not sure when the first lay woman was employed. When I returned to live at the Mount at the end of 1967, (Mother Cyril was Provincial) I don't remember there being any non-members of the congregation working in the house.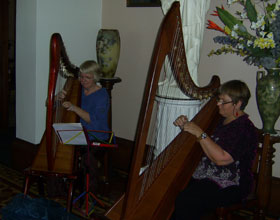 But sometime later, probably when I returned in 1975, I remember Lyn Simmons (nee Arrow) in the kitchen. Lyn, who was an ex-student of St Mary's, was and is a quiet and gentle person, who at that time was bringing up a young family on her own. The next person in the kitchen, whom I remember, was Faye Connors (nee Stevens) who is also an ex-student of St Mary's. Faye, I remember, as an efficient, cheerful person, who didn't drive a car! Then on the cleaning side there was Faye Burke, now deceased, who worked for years at St Catherine's as well and Marge Baines. And who could forget Ivy Fitzpatrick who came to live in our "Sacred Space"? One could write a whole book of Ivy's life.
The next big change came in 1993 or 1994 with the employment of Trish Pickering (nee Brett), another St Mary's ex-student, as congregational secretary. This was very significant as it meant that "an outsider" would have access to lots of information about the congregation. Trish proved to be a loyal and confidential secretary and friend to all the sisters. She was followed by Christine Ferguson, Kylie Short, Jenny Moore-Gilbert, (who, thankfully, is still in our "Sacred Space" in another role), Bernadette Mcwhinnie and presently Melissa Lawrie, all of whom are fine women we are proud to have working with us.
In 1995, another "sacrosanct" area of our lives, namely finance, had its first "outsider". Sister Mary Magaard, of fond memory, enticed Heather Cosgrove from Westpac, to be her assistant on a part-time basis. And what a treasure she proved to be! Without Heather to guide the finance office when Mary got cancer and subsequently died, we would have been in a bad way. When Heather started work at the Mount she had a baby boy called Bruce who accompanied her to work.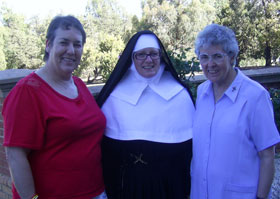 It was then that the congregational offices began the tradition of being "family friendly", with a succession of babies and children accompanying their mothers to work when necessary. The next person to be employed in the finance office was Cathie Hale, and when the finance office took on doing Wilcannia-Forbes book-keeping, Sally Dwyer came on board. Sadly, Heather also died of cancer in 2008.
Last, but not least, our one and only Sister Mary Ryan retired as archivist in 2008 and Carol Anderson took over looking after our treasured history. We have been very blessed in the women who have assisted us over the years at St Joseph's Mount.
From: Patricia Powell RSM (Bathurst)