Archived News Item
Melbourne sister reflects on UN Experience
February 12, 2009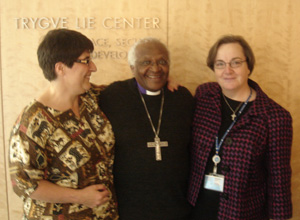 Melbourne Sister of Mercy, Cathy Solano recently completed a ten-week internship at the UN in New York with Mercy Global Concern (MGC). This internship is the first of what is hoped to be a series under the leadership of MGC's Director, Sister Deirdre Mullan. Prior to this experience, Cathy worked in Sudan, Uganda and Pakistan. In what follows, Cathy reflects on her experience at the UN.
It was an inspiring and emotional moment on the night of the US elections. We were keeping vigil as the votes were pouring in, waiting to hear the announcement of who the next president would be. The NBC TV cameras crossed over to a small house belonging to a white, middle-aged couple in the Bronx. Their home was overflowing with seemingly hundreds of African-Americans, young and old. The atmosphere was one of excitement, hopeful expectation, and joy, bursting to be unleashed for one of the most historic events in the US. The reporter pointed to a hand-written poster hanging on the wall behind the couple which read:

Rosa sat
so that
Martin could walk
so that
Obama could run
so that
our children could fly.
This concise summary of recent American history shocked me. I felt I had been punched between the eyes. Not until some time had passed did I realise that I was confronted with the fact that the hopes and dreams that I, and so many others have for the world, can really come true: that freedom and equality are possible for all those living in situations of poverty and oppression, and that justice and a peaceful future are truly possible for the millions of refugees and victims of war.
In 1955 when Rosa Parks kept sitting and refused to give up her bus seat to a white man she could never have imagined that in only 50 short years there would be a charismatic young African-American running for the presidency in her country. Was her hope so strong and visionary then? I don't know. I don't think so. She was probably just exhausted and couldn't get up anymore.
I had to admit to myself that the hopes and dreams I hold for the poor in Africa and in other parts of the world are tinged with regret, frustration and cynicism. I am shocked, actually, because my "hopes" are overshadowed by the darkness that is our world's reality today. I see greed and exploitation, apathy and evil, and so many selfish and proud egos getting in the way of those who genuinely wish to do good for those who live in extreme poverty and oppression.
These are the initial thoughts and feelings I have as I reflect on the experience of the ten-week internship at the United Nations I was given by Deirdre Mullan RSM through Mercy Global Concern in New York.
During my time at MGC I heard too many stories about the evil realities that are continually occurring in our world. In fact, it can seem that things are getting worse, not better. Some of the ones that remain with me are:
The stoning of 13-year old Aisha in Somalia. Aisha and her family reported to their local authorities that she was raped by three men. The authorities then decided that she had committed adultery, had her buried up to her neck in the middle of a stadium in front of 1,000 people and then 50 men stoned her until she was pronounced dead.
The secretly-videoed footage brought to the UN of a naked male Iraqi prisoner showing guards holding him down and his struggling desperately and screeching loudly as they are about to amputate his leg for the crime of having taken part in an anti-government demonstration.
The endless number of reports documenting the thousands of women and girls who are being violently and systematically raped by militias, armed forces and gangs in the Congo and Darfur because it is accepted as a weapon of war to abuse women in this way in order to humiliate and destroy whole communities.
The terrible suffering that is occurring in Zimbabwe under the despotic rule of Mugabe.
When I attended meetings and activities at the UN I heard many great ideas and wonderful values being promoted. I was particularly proud of the speeches made by the president of the UN, Father Miguel D'Escoto Brockman, a Brazilian Maryknoll priest who has a passion for justice and is not afraid to speak the truth and challenge leaders to do what is right for those who are suffering in our world.
I was heartened by hearing and seeing evidence of the effectiveness of some wonderful programmes such as the Millennium Villages funded by UNDP and of the successes of micro-lenders who have helped people to sustain themselves and their families with just small loans which invariably lift them out of extreme poverty. They retain their dignity because they are then able to pay back the loan as they achieve success. These are programmes that help those in poverty not just to be content with a meagre handout of food or money, but which educate them to take the first step up the ladder of development.
During the two-week "Bridging the Gap" conference organised by Deirdre each year, I met Mercy sisters from all over the world and was awed by all the different works they are doing:
Selina, a young Kenyan who goes out to the nomadic pastoralists in Turkana-land in the north and brings treatment and education to slow the ravages of HIV-AIDS amongst them;
Patricia and Kathy at Mercy Haven who have been working for 23 years to provide housing and assisted living for hundreds of physically and mentally handicapped people;
their in-house attorney John, who recently won a mass-action suit against the state of New York so that the thousands of poor receive the multi-million dollars worth of food stamps assistance to which they are entitled and;
Carmel, working in her community's secondary school in Sydney, doing all she can to promote Catherine's vision amongst the students and staff there.
In the Philippines, Jamaica, Newfoundland, Ireland, New Zealand, Tonga, the UK, Zambia… we witnessed Mercy sisters all over the world using the inheritance passed on to them for the sake of the poor.
The purpose and vision of the UN are marvellous. The UN is the only forum where all the issues that are troubling any one person, group or member state can be brought to the "table of the world" and spoken of openly to others as equals. As Deirdre said often: "It is the place where the heartbeat of the world is monitored".
The hundreds of issues I perused on the agendas of the different UN Committees' meetings were truly overwhelming and I was amazed that they are being discussed and addressed and that there are great minds and hearts working hard to try and solve these issues. Yet, the oft-stated criticism that the UN is slow, ineffective and hamstrung by the "superpowers" is also true. There are political and economic complications, vested social and business interests and human nature as always, which also get in the way. There are many other such matters to contend with and all these contribute to make the UN incapable of doing what it should do.
There is absolutely no doubt that our world community has the money, resources and knowledge to eradicate poverty in our world today. I learned of the trillions of dollars the USA spends on its military budget each year let alone what it has spent in the recent wars in Iraq and Afghanistan. If only a small fraction of the money spent on weapons, warships, fighter jets, submarines and in training human beings to kill and destroy in the defence of our developed countries could instead be used in the achievement of the UN Millennium Development Goals1 then we would have a safer, happier and more productive world for all of its inhabitants.
I dream about all the armed forces in our world being used to build up not destroy. Imagine all the soldiers, sailors and pilots in our world building roads, bridges, dams, schools and hospitals instead of launching bombs and bullets. I am sure that Post-Traumatic Stress Disorder would also be eradicated!
MGC at the UN is a vital and important place. I wish I had known more about this office and Deirdre's work before I went to work in Africa. I would have communicated more with Deirdre and shared with her many more of the instances of injustice and exploitation perpetrated by the Khartoum government against the Sudanese. I would have asked her to use her hard-earned connections at the UN to help me in my work in the Nuba Mountains. MGC is a centre where world-wide Mercy women can connect and work in a collaborative way to bring about positive change at a global level.
I am convinced that:
MGC is the place where communication from the ground needs to be fed in systematically so that we are aware at the local, national and international levels about issues of concern to our Mercy world.
we sisters and all our associates in mercy need to be continually provided with the global reality of the world in which we live and how our actions or inactions contribute to the sad fact that billions of people are starving, sick and scared.
we need to monitor how governments uphold the human rights of all of their diverse peoples and do something when they are not being upheld.
we need to bring to public attention, at the appropriate level, the plight and abused rights of those most vulnerable and disadvantaged, especially women and children because that is what is demanded of us in the Gospel.
There are so many insidious and ingenious ways in which ruthless, greedy people and corporations seek to exploit others. We need to be alert to these abuses. If we allow our hearts to be broken and to be in solidarity with our neighbours then we would be Catherine's sisters animating her compassionate respect to all those we meet.
I know that we have modern avenues such as Mercy e-news to be in communication with each other but I think it is not being used enough, and I, too, am guilty of not using this resource properly. We must find more ways of networking with each, sharing our stories and calling each other to work so that the justice of the kingdom is a reality for all peoples.
I know that Deirdre is a very capable, creative and hard-working woman of Mercy, but I have seen that she needs much more support in the MGC office because often there are several meetings and committee working groups that should be attended at the same time.
Whilst I loved my time in New York and relished seeing and doing many interesting things such as meeting Desmond Tutu, Elie Wiesel and Nicole Kidman (yes, great moments!), I have also realised that at this time in my life I could not work full-time at the UN. I am too impatient and the slowness of getting results there would drive me crazy! But I very sincerely thank Deirdre for having the vision to offer this internship to several sisters. I know that I have received a gift that I will both treasure and use in the work in which I am engaged in the future.
I recognise that my greatest challenge is to continue to have hope. I have to keep believing today that our small actions to stand against any injustice not only helps people now but may be the beginning of a movement that inspires others to join with us. Two of Margaret Mead's quotes are appropriate here:
Never believe that a few caring people can't change the world.
For, indeed, that's all who ever have.
and
I must admit that I personally measure success in terms of the contributions an individual makes to her or his fellow human beings.
Just as Catherine responded in her day to her local situation and addressed the root causes of why people are in poverty so we must continue working to bring the mercy spirit to the places where we work. Extreme poverty is a human rights abuse and as Gospel and Mercy women we must use our education and our resources to reverse the injustices we see around us.
The second reading for the feast of the Epiphany speaks loudly to me at this time:
This mystery, as it is now revealed in the Spirit to His holy apostles and prophets, was unknown to humanity in previous generations: that the gentiles now have the same inheritance and form the same Body and enjoy the same promise in Christ Jesus through the Gospel. (Ephesians 3:5–6)
Unbelievable changes have occurred in the short years between Rosa's defiant sitting in the bus to Obama's winning the election. The reality of such changes helps satisfy my impatience and my wavering hope. Dare we dream, pray and work to help all people enjoy the promises of Christ?
Lord Jesus you do not ask of us anything that is false or beyond our power to achieve. Through your self-revealing love and the power of your grace… compel what is most human in us to become aware of itself. In our midst there slumbers an immense spiritual power which will manifest itself only when we have learnt to break through the dividing walls… and raise ourselves up to a new perspective. Lord Jesus, you who are the Saviour of our human activity… and the Saviour of our human pain… be also the Saviour of our human unity by compelling us to repudiate all pettiness and, relying on you, to venture on to the unchartered ocean of charity.
(Teilhard de Chardin – The Hymn of the Universe)
This year Cathy Solano RSM is working as Mercy Works Inc.'s Community Education Officer. She is based in Melbourne and can be contacted by email: CSolano@melbmercy.org.au