Archived News Item
Melbourne launches Young Adult Mercy Links
February 8, 2007
On International Human Rights Day last year (December 10), a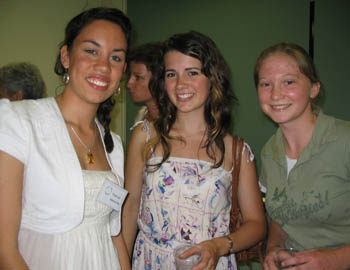 group of young women and men gathered at the Academy of Mary Immaculate in Fitzroy (Melbourne) for the launch of Young Adult Mercy Links (YAML), a new initiative of the Melbourne Congregation co-ordinated by Sisters Margaret Moore, Sally Bradley and Victoria Cobb.
Guest speaker for the launch was Mrs Hilary Charlesworth, Professor of Law at the Australian National University. Hilary spoke about what inspires her in her work for human rights, both nationally and internationally, and how she became involved in this work. She also addressed issues relating to Australia's human rights record both within our country and beyond.
It was an inspiring and encouraging evening with lively discussion that helped to deepen and expand our understandings of justice and human rights issues, both local and global.
During supper we enjoyed the music of an African drumming group. We were pleased to welcome a number of young people who have just completed their final year at Mercy schools and are looking to be part of Mercy Links in 2007.
We will keep you informed of the activities and growth of this new Mercy initiative. It has come as a response to our Melbourne Chapter Direction Statement, to be women who are "…supporting, resourcing, enabling others, to carry mercy forward… taking risks to promote mercy and justice in our world."
For more information about Young Adult Mercy Links, or if you would like a copy of the brochure, please contact Margaret Moore RSM by phone: (03) 9351 0378 or mobile: 0400 651 662.
From: Sophie Fenaughty (Local Communications Facilitator, Melbourne)
Email: sophief@melbmercy.org.au