Archived News Item
Meet Joan Doyle rsm
February 28, 2014
My name is Joan Doyle and I was born into a rural family in Forbes, NSW in 1951. I have only one brother and he and his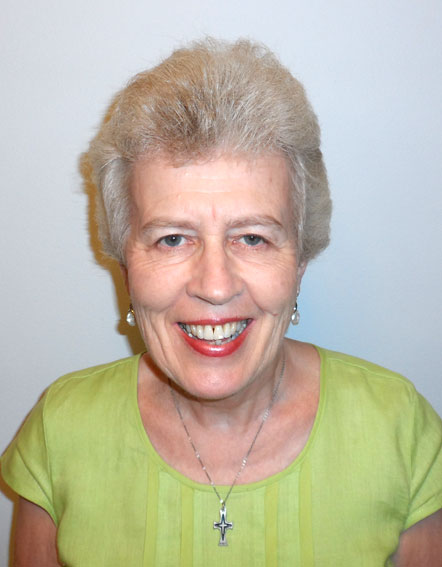 family work the same property that has been in our family for six generations. My father died in 2006 and my mother, aged 84, still lives on the property.
I began my education at a small one-teacher public school situated between Forbes and Grenfell and in late primary transferred to the catholic school in Forbes conducted by the Sisters of Mercy of the former Bathurst Congregation. My final two years of secondary schooling were as a boarder at Monte Sant' Angelo College, North Sydney. After completing a Diploma in Music Education at the Sydney Conservatorium of Music and Alexander Mackie Teachers College I entered the Congregation of Sisters of Mercy, North Sydney in 1974 with the hope that I would teach piano till the end of my days! However, much to my surprise my early years in Religious life were spent in secondary education where I was involved in religious education and pastoral care and also in parish music ministry and liturgy.
From 1985 – 1987, I was a member of the Christian Brothers' Youth Apostolate Team (YAT) at Mulgoa, NSW. These were particularly broadening and enriching years, living and working in a mixed community of men and women, lay and religious, young and old, in an "open house" style community. During this time I was invited to co-lead an exposure trip to India and Pakistan with Br Peter Hancock CFC and a group of young people for a month. This was no doubt a turning point in my life. At the beginning of 1986 I returned to Australia with a heightened awareness of extreme poverty and a strong desire to try and do something to bridge the inequality between rich and poor in our world. So in 1988 I decided to enrol in a social work degree at the University of NSW as preparation for working with more marginalized people. During that time I lived in a rented house in the inner city of Sydney and offered accommodation to country students. I was also involved with the Companions Volunteer Community (CVC). After graduating I worked in child protection with the NSW Department of Community Services at Enmore for three years and was also involved in the Women and Girls in Custody advocacy group.
In 1994 my life took another unexpected turn when I felt a strong call to go to South America! On December 30, 1994 I left for Santiago, Chile and in May 1996 moved to Peru. Together with Sisters Jackie Ford and Patricia McDermott who were also from the North Sydney congregation, we were involved in community development work in a very poor sector on the outskirts of Lima. Working in conjunction with the local people we managed to establish three centres for women, two childcare centres and a medical clinic. I also enjoyed working in partnership with Caritas Australia for ten years. This enabled us to implement a community health education program which included projects in ecology, sanitation and nutrition. These projects were supervised by the Mercy Family Health Service.
When the North Sydney mission was officially handed over to the Missionaries of the Sacred Heart in February, 2013, I returned to Australia with a strong sense of gratitude to God for all that had been achieved with the support of so many and for the privilege of working with the Peruvian people who had taught me so much. My eighteen years in South America were challenging and enriching and a deep experience of the Providence of God!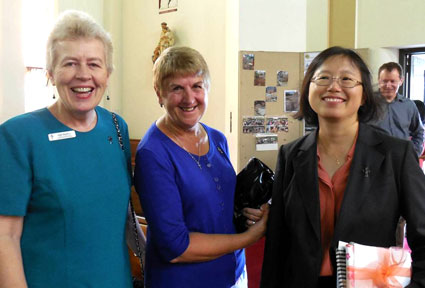 Last April I officially transferred to the Institute of Sister of Mercy of Australia and Papua New Guinea and was very grateful for some sabbatical time in USA, UK and Ireland in the latter half of the year. I now look forward to the privilege of working with newer members of the Institute when I take up my new ministry as Director of Initial Formation for ISMAPNG. I hope and pray that there will be more generous people who will be attracted to the Mercy charism and mission so that together we can continue to make the words of Jesus "I have come so that you may have LIFE and have it to the FULL" a reality for the poorest people in our world today.
Messages to: Joan Doyle
Photo: Joan (left) with Margaret Moore rsm (middle) and Michelle Goh (right) at Michelle's Profession.