Archived News Item
Meet Carmel Daley rsm
March 26, 2015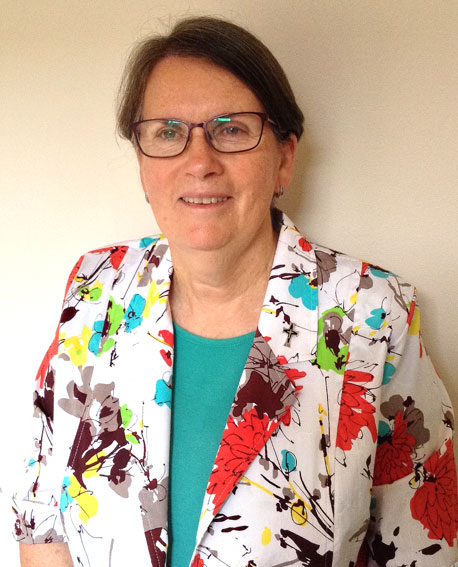 Like both my parents, I was born in Mackay, North Queensland. Mackay is a major centre for the growth and processing of sugar. I like to think there is some "sweetness" in my DNA! I am the eldest of six (6) children. Both of our parents (in their early 90s) are still living contentedly in an aged care facility in Mackay. All of my formal schooling was in the care of the Sisters of Mercy in Mackay and after a few years in clerical work, I entered the Sisters of Mercy in Rockhampton in 1968.
Following my First Profession, as was the norm, I attended Xavier Institute of Sister Formation in Sydney. It was here that I had my first "taste" of reconfiguring, living in Sydney with Sisters of Mercy from North Sydney and the former Singleton Congregation. In 1972 I completed a Diploma in "Hotel Management and Catering." at East Sydney Technical College and returned "North" to take up a role in Food Services Administration in our boarding school, hospital and aged care facility.
Later, needing a change of Ministry, I was approached "out of the blue" to take responsibility for 12 women with intellectual and physical disabilities who were in the care of our Sisters in Rockhampton – my graced journey with people with disabilities had begun!
In 1985, whilst attending Assumption Institute for Renewal in Melbourne. I took a placement at "Ain Karim" a live-in group home for people with disabilities in Adelaide. It was here that I began to understand the importance of respite for families and those with disabilities. Coincidentally, at this time, a respite care facility was proposed for Mackay and surrounding districts. The newly-formed committee, of which I became a member, invited me to apply for the position of Coordinator of the house, later named "Engedi" – a Hebrew word meaning 'place of refreshment.'
During the months of construction of this purpose-built facility and not wanting to be idle for too long, I worked in a hair dressing salon in return for some basic training in hairdressing, a lifelong interest of mine! This provided me with another useful tool which added to a growing skill-set! It still gives me great enjoyment, while providing a valuable service to family, friends and friends of friends!
After 7 years as Coordinator at Engedi and following some years of reading the writings of Jean Vanier, I became convinced that I wanted to be in closer relationship with people with intellectual disabilities. So, on a freezing July day in 1994 I arrived in Canberra to the L'Arche community and began what has become a most formative time in my life journey, and another experience of reconfiguring, spending my "days off" with Sisters from the former Goulburn Congregation!
Living in community with people with disability offered me many important "life lessons!" I learned the art of unconditional love in friendships; an uncomplicated practice of mercy and forgiveness; and an appreciation that people are so much more than their disabilities! During my time at L'Arche, I completed an Associate Degree in Social Science (Disability Care) from Australian Catholic University.
After 10 years in L'Arche, I moved to Sydney and was employed by organisations which provided respite in the local community. Presently, I work in a pastoral role with students with special needs (of any kind!) at Clancy Catholic College, a high school in the south west of Sydney.
Being a Sister of Mercy has opened some important doors in my spirituality. My reflection on the "works of mercy" has revealed to me that people with intellectual disabilities are among the most misunderstood people in our society and are actually 'walking works of mercy!' I believe the grace that I receive in this ministry is Catherine McAuley's gift to me.
Messages to: Carmel Daley rsm