Archived News Item
McAuley Ministries Gather For 'A Better World'
August 29, 2018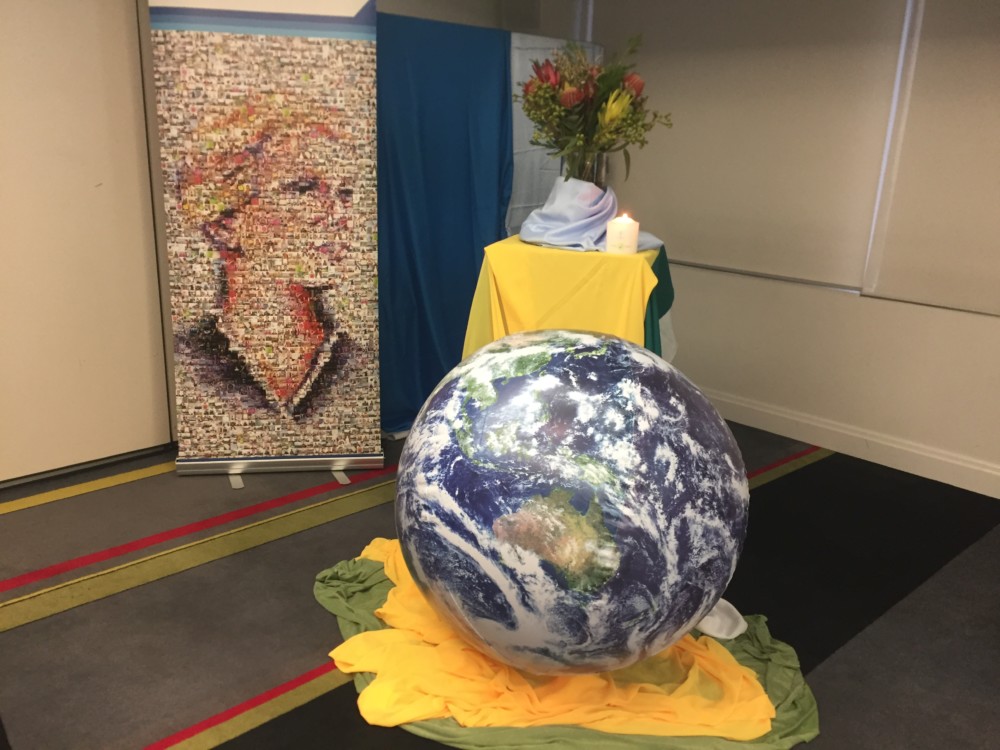 This year's McAuley Ministries (MML) Gathering explored the theme of 'A Better World' and in particular how the many ministries of MML are playing their part in bringing the God of Mercy to the lives of all the living creatures of the Earth.
The Chair of MML, Angela Jordan RSM opened the gathering, which was held on August 6 and 7 in Sydney, by reminding those present that in reflecting back on the previous gatherings, "together, you, we, are the face of Mercy to thousands of people right across Australia, east to west, north to south".
"Quoting Wendy Farley, Mercy is a two-way relationship, it is what it is, when it is effective, it is wounded, but not destroyed by the sufferings of others, it's God's empowering presence in the world.
"This is what we collectively and individually are called to be," said Sr Angela.
Karon Donnellon RSM, who facilitated the gathering, said this year's collective conversation is centred around answering the question, 'what is this better world that we are striving for?' and 'how do we acknowledge this world we live in and how do we create belonging?'.
In opening up the faith tradition, Veronica Lawson RSM explored the question about 'Where in the World is God? – what does this questions have to do with creating a better world?'.
In looking at the desert and house stories in Mark's Gospel where bread is broken, Veronica highlighted the power of ritual to celebrate and bring life.
She said that Eucharist makes present the saving power of our sacred story, enacting blessing and thanksgiving for the multiple ways God is with and in the whole Earth community.
Sheree Limbrick (CEO of the newly formed Catholic Professional Standards) delivered an informative presentation outlining the development of a National Catholic Safeguarding and Compliance Framework for ensuring the safety of children and vulnerable people. This was followed by conversation corners led by Nicki Patten, the Institute's General Counsel, Margery Jackman, Professional Standards Officer and Sheree Limbrick.
The second day of the gathering asked the question 'Creating A Better World – What are we doing? What can we do?', it looked at the wonderful ministry that is already happening and what can be built upon.
Elizabeth Moloney RSM introduced the newly created Mission Integration Team which incorporates – Ministry Animation, Communications, Archives, Environmental Sustainability, Faith Life and Ministry Education (FLAME) and Ministry Governance.
Jonathan Campton (Executive Officer, Ministry Governance) then provided an outline of the Institute's ministries and some of the context in which MML and the Mission Integration Team is part.
Chris Hill (Environmental Sustainability Manager) and Ellen Geraghty (CEO, Rahamim Ecology Centre and soon to be Executive Leader, Mission Integration) highlighted the work they and their teams are doing to further the Institute's Sustainable Living Policy.
"A better world, that's what we are about isn't it? This is where we live, there is no 'away'. We have to be aware of what we are doing and the environmental portfolio that we look after and also the growing part of Rahamim and how we interact with the Institute is very core to what we do", said Chris Hill.
Ellen Geraghty said that Rahamim is one of the big investments that the Institute is making for a better world.
"Fundamentally our ministry is an environmental education, spirituality and advocacy ministry," she said.
In opening up the topic of 'Using Digital Media to Create a Better World', Deb Carter, CEO of Fraynework said communication is at the heart of who we are as people of God, that we are a community and gathering of people who have been called together in mission.
"We can't create the type of ministries of communion that we want if we don't create the sense of belonging in the type of communication that fosters participation".
In closing, Denise Fox, Chief Executive Officer, MML asked those gathered to carry the words with them of the poet David Whyte in his poem 'Start Close In', words which she said were particularly relevant given that many of them ministered on their own.
….To find another's voice, follow your own voice, wait until that voice becomes a private ear listening to another……
Watch the highlights video:
Watch the opening and prayer
Watch the presentation by Veronica Lawson RSM
Messages to: Denise Fox RSM, McAuley Ministries Limited