Archived News Item
Maxine McKew addresses inaugural Catherine McAuley symposium
September 17, 2008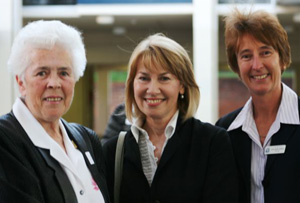 An Australia-wide representation of Sisters of Mercy, their colleagues and friends gathered recently(September 8, 2008) for the inaugural Catherine McAuley Symposium at All Hallows' School in Brisbane.
As momentum builds towards the canonisation of Catherine McAuley, foundress of the Sisters of Mercy, similar events are being held around the world.
According to Sister Caroline Ryan, Vice President of the Australian Institute of Sisters of Mercy, the symposium offered an opportunity to consider anew the vision of Catherine McAuley in light of the pressing needs of today's world.
"This is a significant and historic event in the life of our Institute," she said. "It's our hope that such gatherings will be compelling reminders of Catherine's enduring influence as a woman of faith who did much to transform social injustices."
The keynote speaker for the symposium was Ms Maxine McKew, the Federal Member for Bennelong in New South Wales and past pupil of All Hallows' School.
In her address, which focused on the theme "Mercy: transforming the soul of Australia", Maxine described Catherine McAuley as a feminist, a globalist and an innovator. "She made her short life count and her legacy is exceptional."
Maxine paid tribute to the work of the Sisters of Mercy: "Wherever I see the work of the Mercies today… at its core, it's about enablement and the full realisation of human potential."
On a personal level, she acknowledged with warmth and gratitude the Sisters of Mercy who educated her at All Hallows'. "…the confidence, the self belief that's helped me to play a role in public life can be traced back to what happened 40 years ago under the tutelage of Sister Mary St Vincent… [She] was a marvellous woman – wise, warm and worldly…"
While Maxine outlined many of the significant ways that Sisters of Mercy continue to contribute to the well-being of society, she also said that mercy is not confined to religious communities. "The transforming power of mercy can be found in many places."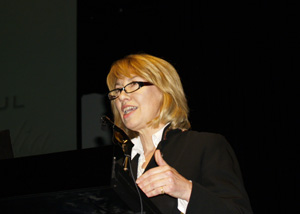 "I have an abundance of optimism because I see so many examples where well motivated individuals and indeed corporations are re-imagining their own role in civic society. This is not just a question of putting time and dollars into particular projects. Where we see real transformation, we see a respectful partnership between the giver and the receiver. Both are enriched by the experience."
Three representatives of ministries connected with the Sisters of Mercy across Australia responded to Maxine's address. Each reflected on her input from their respective experiences: Mrs Margery Jackman, as Principal of Catherine McAuley School Westmead in Sydney; Mr Paul Linossier, as Chief Executive Officer of MacKillop Family Services in Melbourne; and Dr Maria Harries, as Chair of MercyCare in Perth.
Of significance for Sister Caroline Ryan was each respondent's deep affinity with the spirit of God's mercy as expressed through Catherine McAuley. "They 'own' Catherine and the values she held dear just as we Sisters of Mercy do," she said.
"It really encourages us that such people as these – and there are many of them – are taking forward Catherine's mission."
In her capacity as MC for the evening, Sister Mary Duffy, Vice-Postulator in the Oceania Region for Catherine McAuley's Canonisation Cause and Chair of the Australian Canonisation Advisory Committee, praised All Hallows' School for their generous hospitality in hosting the event but also for the important role they played in setting a prayerful context for the evening.
"We do extend a very sincere thanks to the staff and students of All Hallows' School who've led us so beautifully tonight in prayer. As I sat there, I could hear Catherine McAuley saying, 'nothing is more conducive to the welfare of society than the education of women'. [It's obvious] what All Hallows' School has done to keep those words and reality alive."