Archived News Item
Maternal Health – delivering healthy outcomes
June 22, 2012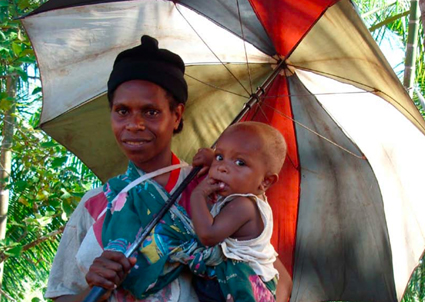 Giving birth anywhere in the world is a challenging time for women. Achieving it in a remote village with professional medical help hours away is even more so. Four years ago, Mercy Works began a project to train women from villages around Kiunga to act as voluntary birth attendants. With stretched medical resources and hospitals a long way away, it was vital to build local women's capacity to help with pregnancies and births.
Initially Mercy Works trained 45 attendants over two years with a few others joining who had been trained by other organisations. The women were selected by leaders in the community and came from 21 villages. Because the attendants are all from their own group or clan, they are accepted in a way outsiders would not be. They are all linked to one of 5 health centres for ongoing supervision and to keep them supplied with their birthing kits.
Extraordinary stories
Since their training there have been some extraordinary stories of attendants intervening in difficult births and saving the situation. In one instance, the attendants in a mountain village recognised that two women were pregnant but with serious complications, one with a difficult lie, the other a breach position. They sent someone down the mountain valley (an 8 hour journey) to the nearest aid post where community health workers relayed the information to Catholic Health by the radio. They then contacted Tabubil Hospital who organised a chopper to the village to collect the women and return them to hospital. Thanks to the prompt action of the attendants, both mothers and their babies survived. It's this kind of collective action that is at the heart of a true community.
Long journeys
The attendants often travel for miles to assistant pregnant women, nearly always on foot along very challenging dirt roads, across streams and up and down mountains. Births in PNG are no different to elsewhere in the world in that most happen during the night. This means the attendants are walking along pitch dark paths. For this reason Mercy Works has been trying to ensure they all have strong torches to help light their way. The work of the attendants varies. Some are able to perform simple deliveries, others focus on promoting healthy pregnancies, immunisation, family planning, identifying high risk women and encouraging expectant mothers to go to where professional nurses can assist with the birth.
A nurse at the Tarakbits health centre stated how much help the voluntary birth attendants are.
'We find they really assist us. They bring women in for referrals and they are prepared to stay for the delivery; they are really active.'
A wonderful result
We're delighted to report that in 2011, there were 38 births registered under the voluntary birth attendants scheme. Of these, 5 were reported as having complications. They were referred on and in all cases the women and babies survived the birth – a wonderful result!
In addition to the remarkable commitment and skills of the volunteer birth attendants, thanks must go to Horizon Oil for their generous support of this worthwhile project.