Archived News Item
Mater Waratah memories: calling for your photos
November 19, 2009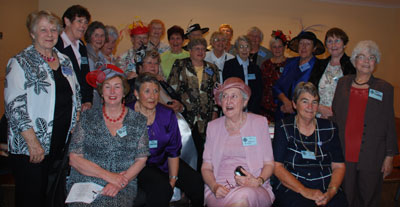 Anyone who has a friend or relative who is a Mater graduate nurse knows something of the special pride these women have in their training, their years of nursing, and their colleagues at the Mater.
Over 140 graduate nurses of the Mater Misericordiae Hospital Waratah (now Calvary Mater) gathered on November 8 for their 63rd annual reunion. Held on the second Sunday in November each year, the reunion is one of a number of significant traditions that Mater graduates hold dear.
What is that special ingredient that seems to set Mater graduate nurses apart, that forged and sustains such strong bonds between them?
According to Ms Colleen Canny, President of the Mater Graduate Nurses' Association, "The nuns (the Singleton Sisters of Mercy who owned and operated the hospital until 2006) really taught us how to care. We thought nothing of staying back after our shift to do a patient's washing or shampoo their hair. They taught us to nurse to a very high standard. It was like a vocation for us as well as for the sisters. It's something I can't quite explain."
Ms Canny says that many of the nurses have gone on to be very successful professionals, often obtaining responsible senior positions. "We shared – and still do – a closeness, a connection, a loyalty."
For Association Secretary, Ms Virginia Smith, the fact that Mater nurses lived together at the nurses home is a significant element of the bond.
"For many years the reunions were held at the Mater Convent, thanks to the hospitality of the sisters. Visiting your room at the nurses home and eating in the dining room were special moments in the day. It was an amazing place."
Request for photos
The Mater Graduate Nurses Association is currently producing a DVD of old photos as another way of keeping the memories alive.
Organisers have so far collected 300 photos depicting processions and other ceremonial occasions; nurses dressed up to sit their final nursing exams – thought to be a unique Mater tradition; original buildings such as the nurses home; graduations and balls; photos from Mater musicals and choirs.
They are very keen to include as many photos as possible in the DVD. If you have any photos relating to the Mater, you can email them to maternursingphotos@bigpond.com by September 2010.
Over 1500 nurses graduated from the Mater between 1921 and 1987.
The Graduate Nurses' Association would be very pleased to hear from some of the younger nurses, particularly those who graduated in the 1980s, who may be interested in attending future reunions or joining the Graduate Nurses' Association Committee.
For further information about the Mater Graduate Nurses' Association, please contact Colleen on (02) 4932 7611 or Virginia on (02) 4943 6286.