Archived News Item
MARKING THE YEAR OF CONSECRATED LIFE
June 1, 2015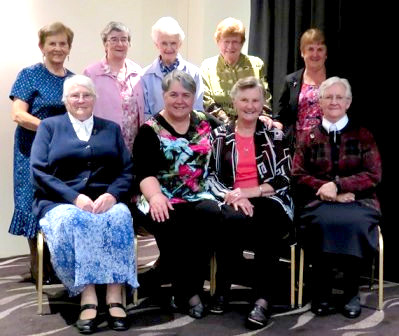 To celebrate the Year of Consecrated Life, each parish in the Sandhurst Diocese was invited to mark it in some way. The parishes of St. Brendan's Shepparton, St. Mel's South Shepparton, St. Mary's Mooroopna, and St. Mary's Dookie came together and hosted a dinner inviting Religious who had ministered in the area over the years as their guests.
A group of about one hundred and fifty people gathered at the Goulburn Valley Hotel. The tables were carefully grouped so that one or two Religious were seated at each table. The evening began with a toast to those Religious present and to Religious life in general.
The main course was followed by an inspiring address by Monsignor Peter Jeffrey who outlined the contribution Religious had made in the area, in the Church and in the lives of so many families and students through their presence since 1902. He also expressed a deep gratitude felt by all for the commitment and presence of Religious in the area over the years.
The Sisters of Mercy were paid particular tribute for their pioneering and visionary spirit and for their lasting influence and impact on education. Then to the surprise of those Religious present, each was invited to share a memory of the time spent there. What transpired was an amazing time of storytelling of personal experiences which also reflected the changes in Religious life and how these changes impacted on the way ministry was provided over the years.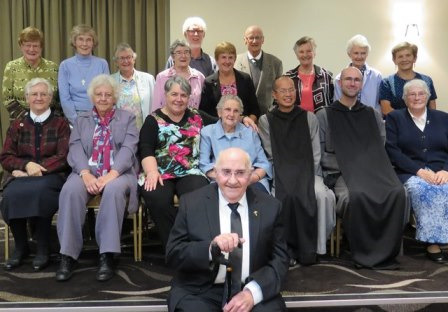 After each person spoke, there was a presentation of a candle and a "show bag" that contained a little memento from each parish in it. There was the obligatory photo shoot of the group and the rest of the evening continued with a great spirit of reunion, storytelling and expressions of gratitude. Paraphrasing St Peter – "It was good to be there!"
Messages to: Giovanna Danza rsm
Photos:
Top: Sisters of Mercy present at the celebration
Bottom: Religious present at the celebration