Archived News Item
'MARKING THE MOMENT'
June 27, 2016
On 26th May, 2016, the Sisters of the former Congregation of the Sisters of Mercy, West Perth celebrated 120 years of their foundation.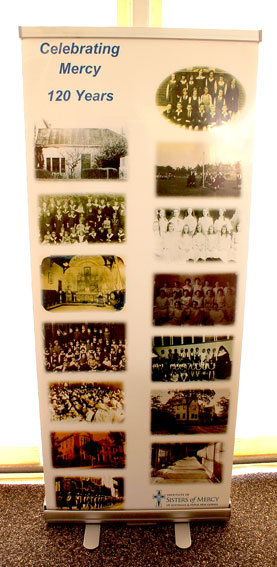 A Little History
From 1888, the some of the early Sisters had lived at Saint Brigid's Convent West Perth, a branch house of the Sisters of Mercy Victoria Square. In 1896, because of the number of pupils who sought their education at St Brigid's, the Most Rev. Dr. Gibney D.D., Bishop of Perth, decided to make West Perth a separate foundation. He said that the change was a necessary result of ever widening obligations. Increasingly, duties so crowded in upon the "Mother House" at Victoria Square that it had been next to impossible to meet with every request and the provision of staff needed for St Brigid's could not be kept up.
On Monday 25th May 1896, Sr M. Berchmans Deane, was appointed Reverend Mother of this Community and Sr M. Liguori Gilchrist was appointed Mother Assistant. Other members of the foundation were Sisters Mary Anthony Woods; Borgia Clune; Claver Stewart and Aquin Gilchrist. All of these sisters had been on the staff at St Brigid's staff at some time.
The Celebration
The celebration of this foundation 120 years ago was a wonderful and joyful occasion. The sisters, their friends and past students attended a High Tea in a Marquee on the grounds of St Brigid's car park. Tables and chairs were set up by the committee and as the invited guests arrived afternoon tea was served. There was a great buzz of excitement as people greeted sisters and friends and in some cases renewed acquaintance of former times. A Welcome to Country was read by Sr Dolores Coffey and then Sr Marie Duffy, Community Leader, officially welcomed Archbishop Barry Hickey and all guests to St Brigid's.
A 'Story Telling Time' took place with four sisters who either attended school at St Brigid's or lived in community at one time or another. The sisters' stories were about their involvement in the school and parish and the people who worked there. These stories were delivered with great clarity, wit and deep respect for those sisters who had lived at St Brigid's during these 120years.
Sr Paula Mc Adam spoke of her family and the involvement with the sisters and the parish. The sisters played a very important part in their lives and were very much appreciated and held in great esteem by her parents. Sr Mary O' Connor told of living and working with the sisters in the early 60's and the great works of Mercy that had occurred during her time there. Sister Janina Pascoe was a student and told some very fascinating stories about when she came to St Brigid's from Bunbury. Her love of music was greatly encouraged by the wonderful music teachers who taught her.
Sr Barbara Lee, also a pupil, told of the history of her Great Aunt who joined the convent and of her Great Uncle, Mr Alfred Lee, who was the contractor who built the Convent in 1896. Archbishop Barry Hickey, who was a curate in the 60's, spoke of his first appointment after returning from Rome to St Brigid's, expressing great respect for Monsignor O' Sullivan, the sisters and the families of the parish. The youth of West Perth were delighted that he could speak Italian and he recalled wonderful groups that met often. The children at school were also thrilled to see him on his scooter and around the classrooms.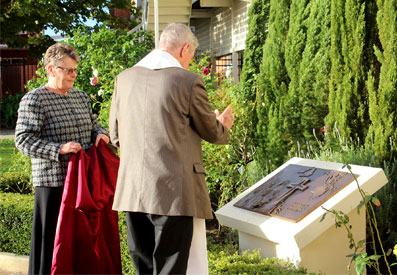 After a formal thank you by Sr Beverley to all the committee and those present who had made the occasion a very special and happy one, a liturgy of thanksgiving was held. Archbishop Hickey then blessed the Bronze Plaque in the convent grounds. The plaque designed and sculpted by Gael O'Leary, depicts the historical development of the Sisters of Mercy with a visual of their travel route from Ireland to Perth.
It was truly a great day of rejoicing for the 120th Anniversary and a lovely opportunity to remember with great gratitude the sisters who had worked and lived at St Brigid's over these years.
Messages to: Sr Mary O'Connor     
Photos:
1. Celebration banner
2. Sr. Marie Duffy rsm and Archbishop Hickey blessing the plaque.