Archived News Item
MARGARET RANDALL rsm
February 8, 2016
My earliest memory of Sisters of Mercy was during World War II when mum, my sister, two brothers and myself lived in Roma, Queensland. Mum had grown up in this town and had returned there to be near family while Dad was in the army. I clearly remember one day when two Mercy Sisters came up the front stairs, into our living room and asked mum if there was anything they could do for her. But my path with Sisters of Mercy did not cross again until 1959. I entered the following year and was professed in January 1963.

Following teacher training at St Joseph's College, North Sydney, I taught in Mercy primary schools around Sydney. In 1979 I commenced a new ministry providing support for our older Sisters. Of particular interest was their response to satisfying and enjoyable leisure experiences. With my teaching background and support from health care professionals I entered the field of diversional therapy. This involved the provision of leisure for those who, due to illness, disability or the adverse effects of ageing, were no longer able to initiate and/or continue to participate in satisfying and enjoyable experiences. Because it was such a new field of care, our Congregational Leader suggested I move into the general workforce to gain further experience and seek more opportunities. I joined the Diversional Therapy Association and took part in a short course offered at Royal North Shore Hospital. I then commenced working at a private hospital that cared for people with a drug and alcoholic dependency or mental health illness. From then on I participated in other relevant courses.

My studies in gerontology began in 1987. I gained a Masters Coursework degree and a Master of Health Science (Gerontology) by research. I continued working part time as a diversional therapist in nursing homes, taught on the Diversional Therapy Courses at the University of Sydney and University of Western Sydney and was involved in research projects. During this time I became increasingly aware of a lack of understanding of the needs of people with dementia and the fact that they were frequently overlooked when programs were being designed and implemented.
In 1998, I was awarded the Vincent Fairfax Churchill Fellowship to investigate the provision of leisure for people with dementia. This tour took me to facilities in England, Scotland, the Netherlands, Sweden, USA and Canada. On my return I was able to implement much of what I had learnt working mainly in nursing homes as a consultant and presenting at conferences. I was also involved in furthering my understanding of the needs of people with dementia through the Dementia Care Mapping Course from the University of Bradford, England. In 2003, I became a Member of the Order of Australia for my work in this area.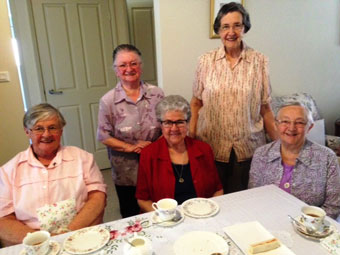 Today I live in Southern Cross Village at Marsfield. I am learning first hand now, what it is to be an older person. As I look back over the years, I see how prayer has helped me to understand where God was in my life. My work with older people who had suffered significant losses enabled me to reflect often on the words of Jesus, 'Whatever you do for the least of my brethren, you do for me'. I have been led into a ministry that did not exist during the time of Catherine McAuley. However, thinking about her responses to the needs of her time, I believe carers of older people require the qualities that Catherine displayed, a great deal of understanding, of love, of mercy.
As I slow down, I will continue to search for different ways of meeting the needs of these people. Then, with God's help, I will continue my Mercy journey into the future, wherever this may take me.

Messages to: Margaret Randall rsm