Archived News Item
Many Years of Mercy Life
March 28, 2014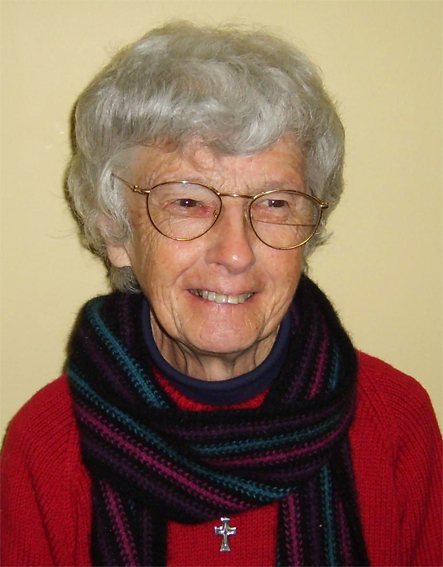 My name is Celestine Pooley and I was born in 1933 the youngest of three children. My brother is deceased but my sister lives with her husband at Kincumber on the Central Coast. We lived with my mother in our grandmother's home in a quiet suburban Sydney street in Enfield. I was educated by the Sisters of St Joseph until the final two years of secondary school when I had my first encounter with the Sisters of Mercy at their secondary school in the heart of the city. It was with this group of sisters I was destined to spend 63 years of my life.
In 1949, less than a year after leaving school, I entered the Mercy Convent at North Sydney – a very immature sixteen year old. I looked forward to the prospect of classroom teaching, but the choice was not mine, and to my initial dismay I was assigned to Monte Sant Angelo teaching music, and there I was for the next thirty years. Although it was certainly not my chosen ministry it actually brought me many blessings, because in those early days I had to rely much more on the grace of God to get me through when I felt my natural skills lacking.
When Vatican II burst on to the scene things began to change and sisters were engaging in a variety of seminars, talks, counselling courses, and many other ventures outside the convent walls. That wasn't considered necessary for music teachers! It took me a few more years before I decided to begin educating myself in things beyond music. I completed a theology course at night at the Aquinas Academy in the city, and was then advised to begin the philosophy programme offered there in the evenings. That was a real challenge, but five years on I received my degree from the University of St Thomas in Rome. Philosophy taught me many skills for life.
I felt I needed a change from music after thirty years, but was uncertain about what next. I was to find, however, that when you close one door, another always opens. One of the senior professors at Catholic Theological College at Hunter's Hill had taken very ill, and I was invited to take his philosophy classes! A First Class Masters Honours degree at Sydney University equipped me to teach at the highest level. My nights were full! The College was beginning the process of opening its doors to the laity with more evening classes and an accommodating curriculum. Philosophy was a compulsory component of the degree, so I had the privilege of coming into close contact with so many amazing young women in the mix of people coming into the college. The next seventeen years were very fulfilling and many lasting friendships were formed.
I'd been in academic life long enough so I did a postgraduate course that would give me the skills to teach English as a second language. Through that I had my first experience in meeting up with refugees. At the same time I was asked to take on the role of Justice Coordinator in the North Sydney Congregation. My background didn't qualify me for that in any way. Once again, it was to prove a wonderful grace. I did my best to get involved in as many areas as possible, joining various action and advocacy groups, attending meetings, seminars and rallies, and above all meeting and being with people at the grass roots. The Aboriginal and Asylum Seeker issues were a focus of my passion, and remain so. I'm still part of the NSW Aboriginal Network. Before the present Institute was formed I was invited on to national Mercy Justice Core Group, and it was through this medium that I met up with many wonderful Sisters of Mercy from the other congregational groups. A life-changing experience was spending three months in Lima, Peru with the three sisters on the mission there. The faces of the people I met will forever remain with me.
My rallying days are probably over but I stay involved in other ways. These last few decades of my life have taught me so much, broadening my horizons and enriching and deepening my spiritual journey. I have the privilege of leading a Christian Meditation group of some seventeen people in the local parish, and I'm in the process of mentoring a young man to take over leading the group.
The God of Surprises is ever present in my life. Without doubt, the hardest decision I've ever had to make in my life was to leave behind my North Sydney Congregation after sixty-three years and join the newly established Institute of Sisters of Mercy of Australia and Papua New Guinea. I knew it was where I was called to be, and since joining the Institute I have never looked back.
Messages to Celestine Pooley rsm