Archived News Item
Managing the pain of people over 65
May 10, 2007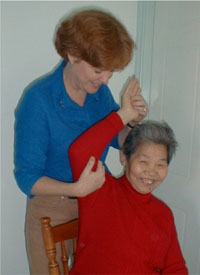 Are you over 65 and suffering from chronic pain? Then you might be interested in a research program being undertaken by the Sydney University and Royal North Shore Hospital Pain Management and Research Centre. Parramatta Sister of Mercy, Rebecca McCabe, works as a Clinical Researcher at the Centre. In her work, she and a clinical psychologist co-direct programs for people with persistent pain, balance difficulties and a previous history of falls. The people they work with come from all areas of NSW. Find out about the project.
Sister Rebecca McCabe (Parramatta) is a Clinical Researcher with the Pain Management and Research Centre at the Royal North Shore Hospital. This research group has been funded by Australian Health Ministers Advisory Council for five years to explore the connection between persistent pain, and balance in people over 65 years of age.
Associate Professor Michael Nicholas, Director of the Pain Management Program says: "with an ageing population and around 26 per cent of elderly people suffering some form of chronic pain, it is essential that we look at ways to help the elderly in this area."
"While prescription drugs can be helpful in this group, many do not tolerate them well or would prefer other, non drug, ways of managing their pain."
The group sessions can accommodate up to eight participants at a time and they attend two hours twice a week for four weeks in the late morning period. The groups are conducted by a physiotherapist and a clinical psychologist, who combine to teach the participants a range of self management strategies and basic exercises – all of which must be practised at home.
The pain team is looking for new participants. To fit the criteria people must be over 65, have chronic pain, and be able to attend on an out-patient basis. They will need a referral from their General Practitioner. All prospective participants are assessed by a pain specialist at Royal North Shore Hospital (RNSH) first to ensure their suitability for the program.
If this approach to pain management for elderly people proves successful as initial results indicate, the pain team at RNSH will offer training to other health professionals in using the same approach in many community areas around NSW.
If you would like to participate in one of these groups ring the Pain Management and Research Centre on (02) 9926 7676.
Messages to: Sister Marie Butcher RSM (Local Communications Facilitator, Parramatta)
Email: mbutcher@mercy.org.au