Archived News Item
Mamre House Celebrates
August 10, 2011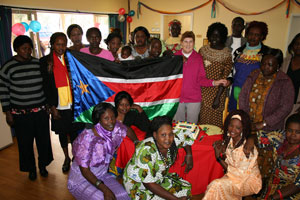 The Independence and the declaration of the new Nation of the Republic of South Sudan have brought great excitement and joy to the South Sudanese community and all who know them.

Mamre House staff, who have been working with the Sudanese community for the last six years, since the arrival of most of the Sudanese community in Australia, shared the delight of the Sudanese community in their independence, and organized a formal celebration last Tuesday, 26 July. The day provided an opportunity for the women to share their joy and hopes for the future of South Sudan after many years of war and sadness. Visitors included Sr Catherine Ryan, Leader of the Parramatta Sisters of Mercy, who have contributed so much to this project , other Sisters, members of the Coalition Partnership, and students from Catherine McAuley High School Westmead.
Mrs Salwa Garang gave a brief and vivid history of Sudan's struggle for independence, and this was followed by several women giving an explanation of the symbolism of the new flag. After the singing of the new National Anthem, "South Sudan Oyee", the visitors were entertained by the women and their children, singing and doing their national dances. The morning concluded with a feast of Sudanese dishes, prepared by the women.
Sr Janet Woods, the Co-ordinator of the Project said, " We share the delight of the Sudanese community in their new nation and congratulate them. It is a great joy for the teachers to see these women approach the microphone so confidently and address us in English. We are so proud of these women. Not only are they wonderful mothers and home makers, but, as well, they are making great progress in their mastery of English, and adapting to their new country so well, after only a few years in Australia."